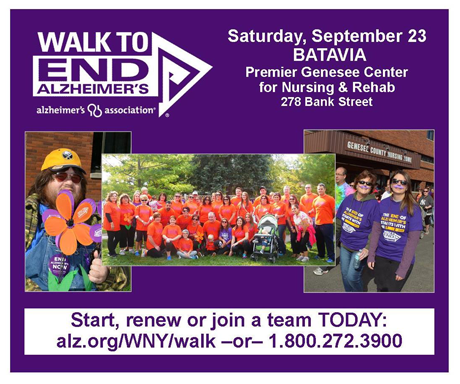 Walk to End Alzheimer's (Batavia Walk) REGISTER TODAY!
WHEN:  Saturday Sept. 23
TIME:  9 a.m. Registration. Walk starts at 10. Coffee and donuts courtesy of Tim Hortons, basket raffle, 50-50, hot dogs and drinks courtesy of Premier Genesee.
WHERE: Premiere Genesee Rehabiliation and Nursing Center, 278 Bank St., Batavia (formerly Genesee County Nursing Home)
REASON: HOPE to find a cure for Alzheimer's! HOPE to finally have the "first survivor"!
NEEDS: Baskets gratefully accepted: Please bring basket donations by 9/18 to Premier Genesee.
NEW THIS YEAR: Avoid registration lines on day of the walk. Preregister at Premier Genesee from 3 to 7 p.m. on Sept.
Click here to register now.