January 20, 2018 - 9:00am
Buffalo Beauts veteran player and Batavia resident prepares to defend Isobel Cup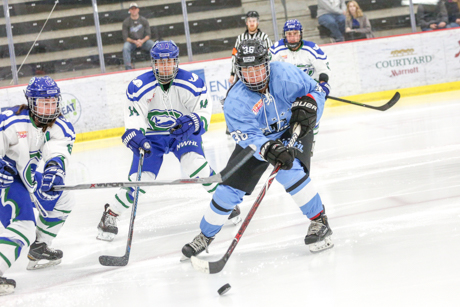 Kourtney Kunichika, a Batavia resident, is in her third season playing forward for the Buffalo Beauts in the National Women's Hockey League.
Kunichika is the only player on this year's roster that played with the team during its inaugural season.
"There's no other team I'd rather be playing for," Kunichika said. "We have awesome fans and a high-end facility at the Harbor Center."
Kunichika is 26 years old, and is from Huntington Beach, Calif. She started roller skating when she was 2, and started playing roller hockey when she was 4. She then transitioned to ice skates when she was 9.
She played college hockey for Rochester Institute of Technology from 2010 until 2014, scoring 136 points in 129 career games.
"I love playing hockey and being a part of a team, being relied on, and cheered on," Kunichika said.
While living in Batavia, she works at a local restaurant and bar at night. Being unable to make practices, she works out and gets on the ice on her own.
The season for the Buffalo Beauts started at the end of October, and runs through March.
The next game for the Buffalo Beauts is at 1 p.m. on Saturday at the Harbor Center, against Connecticut Whale. The Buffalo Beauts defeated Connecticut Whale last game, on Jan. 14.
"We are halfway through the season and in second place," Kunichika said. "We have a target on our back, so we plan to defend our title as the Isobel Cup Champs."
Her biggest worry for the season is the length of each game.
"Right now, our biggest concern is playing a full 60 minutes as one solid team, outworking and outsmarting our opponents each shift," Kunichika said.