September 20, 2017 - 2:38pm
Community discusses domestic violence with assemblymen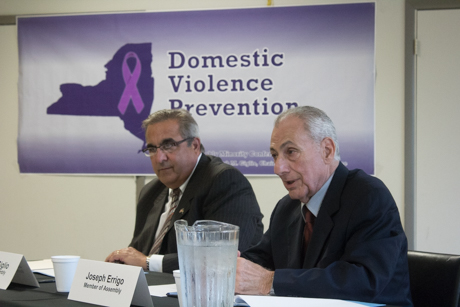 Victims of domestic violence, community-based domestic violence experts, representatives from nonprofit organizations, and members of the community gathered Tuesday night at the YWCA to raise questions and address concerns.
The regional event was hosted by Assemblyman Steve Hawley and included members of the New York State Assembly Minority Steering Committee.
"There is one overwhelming thing we all agree on, whether we're from Downstate, Long Island, the city, North Country or Western New York," Assemblyman Hawley said. "We all agree that there is a huge issue that used to be hidden, but is no longer hidden. It's domestic violence."
Assemblyman Al Graf showed the attendees a stack of "really stupid bills" that they had for domestic abuse, one of which included having victims wear an ankle bracelet monitor to track the victims.
Graf said they are hoping to continue to use technology to their advantage to come up with a better solution than an ankle bracelet monitor for victims.
"An alert button that would notify the police that a domestic violence alert button was sounded and here is the location," Graf said. "That's one of the things we're looking at."
Most panic buttons are inside homes, which won't help, if the victim is not in their home, Graf said.
Assemblyman Joseph Giglio asked an attendee and survivor of domestic violence, "How would we protect you when your abuser gets out of jail?"
"The panic button alert system is something I would be comfortable with," she said. "A name change, anything, so that I don't exist anymore."
Some communities use Justice Centers, which has everything that would be needed under one roof, providing services to get families back on their feet after the trauma. Graf said it would provide a one-stop shop.
Jeanne Walton, the executive director of the YWCA of Genesee County in Batavia, said they serve 30-40 individuals with domestic violence issues annually and what they could do with more resources for people would be unbelievable.
"If you gave us $75,000 tomorrow, we could set up a justice center right now in this room," Walton said.
Walton said there needs to be a unified front for domestic abuse issues. Having counseling, education, and other services all under one roof is a start.
Diane Watts, of Shelby, spoke about her personal experiences and beliefs that there should be education in schools to stop it before it starts.
Watts shot and killed her abuser in 2002, after being a victim of domestic abuse for years. She was later found not guilty by reason of justification. She said the family of her abuser is into the sixth generation of abusers.
"You've got to find some way to stop that cycle," Watts said. "We need to get it into the schools, we need to get it into the churches, and we need to get it anywhere we can to stop that cycle."
Walton said the YWCA has been in the schools for the last two years, speaking to students during Domestic Violence Awareness Month.
"We went to every school in the county except one last year, and just about all of them the year before," Walton said. "It was groundbreaking, the effect it had on people. Dedicating funding for that would be tremendous."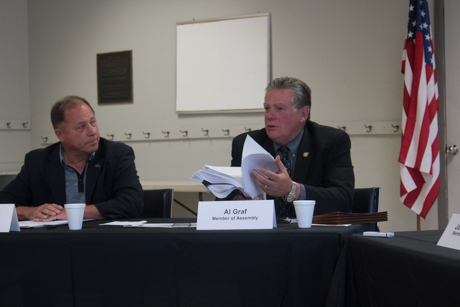 Assemblyman Steve Hawley, left, and Assemblyman Al Graf with some "really stupid bills" from his filing cabinet.