July 27, 2017 - 9:14am
Eagle Scout Project to replace Drew's Nature Center signs in Bergen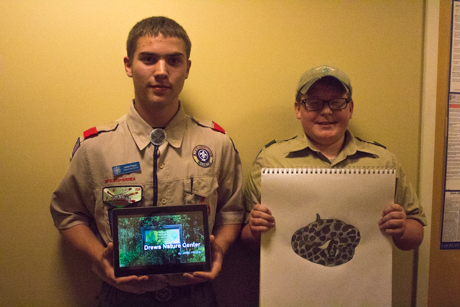 Jared Frego (pictured left) will be replacing the Drew's Nature Center signs, using Logan Pocock (right) and his art skills to paint them, for his Eagle Scout project.  
When Jared Frego saw the Drew's Nature Center signs, located in Bergen, when he was younger, he thought the bullet holes looked cool. Now, Frego is using his Eagle Scout project as a way to replace the damaged, weather-faded signs.
There are two signs, one at the main entrance, and one on West Sweden Road. Frego said the new signs will be the same size as the old ones.
Frego plans to rebuild the signs and fellow boy scout Logan Pocock, 12, will be painting the signs.
The new signs will have a white-tailed deer, a mallard duck, a Massasauga rattlesnake and a ladyslipper.
"These are important things in our community that show who we are," Frego said.
Frego presented his community-funded project to the town board on July 25 and the board voted unanimously to approve it. He is hoping it will be completed by the end of fall.
"I hear tales of [the board] looking to redo the nature center to look a lot like the park in Byron," Frego said. "I want to offer to use my eagle project to rebuild the signs."
Pictures on a tablet were passed around the meeting, showing the weathering, wear and tear, and bullet holes in the signs.
"The signs that you see in the pictures has a lot of shotgun slugs in it," Frego said. "It has a couple .22 slugs, and some people decided to hit it a couple times. It doesn't look too great."
Frego plans to take the old signs out, fix the garden area around them, and put the new signs in. He would like to put fiberglass on top of the new signs, in hope that they will last longer.
Donald Cunningham, the supervisor of the Bergen Town Board, agreed that the signs need replacing.
"The signs, it's evident by the photographs, that they need reconditioning and sprucing up," Cunningham said. "We do want to improve the area for the public. So, I think this is a great plan for what we are trying to move towards."
Brian Stone, deputy supervisor of the Bergen Town Board, said he is grateful and appreciative that they want to spend their time on the signs.
"I'm sure I speak for the board when I say we appreciate your enthusiasm for the signs and to do this," Stone said.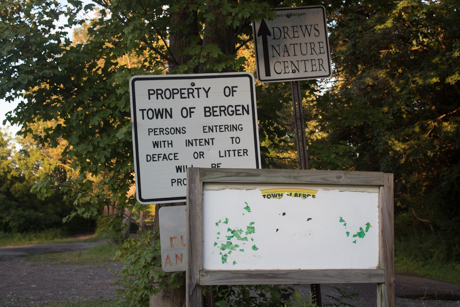 July 27, 2017 - 9:37am
#1
Hats Off To These Fine Young Men !!! Their are only two locations where the Massasauga Rattlesnake is found in New York State. The "Wide River Mouth" is also found in the Cicero Swamp west of Onieda Lake. Almost Extinct and Valuable Environmental Indicators! GREAT JOB GUYS !!!