June 8, 2017 - 8:58am
History Department receives collection of Emory Upton documents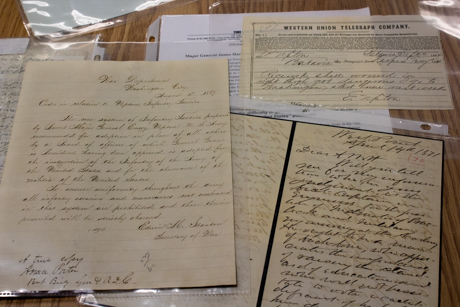 At the end of May, the Genesee County History Department received a collection of $10,000 worth of Emory Upton documents from a donor from Georgia.
Michael Eula, Ph.D., the county historian, said the donation is a type that is usually received by large university libraries.
"We have a number of his papers here already," Eula said. "These are all originals."
Salvatore Cilella, of Atlanta, donated the documents.
The collection consist of 28 documents dating between 1862 and 1892. These include special orders, military passes and letters to friends and family.
Also included is a Western Union telegram from 1864. Upton wrote to his brother, Parley, about the wound he suffered at the Battle of Winchester.
Eula said there is no plan for the Upton documents to be put on display at this time.
"This is the sort of thing that UB would get," Eula said. "I am proud to say that we have it here."
Eula said Upton is one of Genesee County's most famous people.
According to a history compiled by Eula, Upton was born on Aug. 27, 1839 on a farm near what is now in Batavia. He was the 10th child born to Electra and Daniel Upton.
Upton attended Oberlin College, transferring to the U.S. Military Academy, graduating shortly after the outbreak of the Civil War, in 1861.
Being in his mid-20s, Upton rose to the rank of Major General by the end of the war.
"He had displayed his bravery and leadership skills at such noteworthy Civil War battles as Spotsylvania and Fredericksburg," Eula wrote.
In 1868, Emily Martin married Upton in Auburn. She died from tuberculosis a little more than two years later in 1870.
After the Civil War, Upton became an educator and policy maker through his tenure as Commandant of Cadets at West Point and through his research and writing.
Upton published "A New System of Infantry Tactics" in 1867. His other famous work, "The Military Policy of the United States," was published in 1904. It analyzed American military practices and examined the nation's military history.
"Upton was more than a West Point graduate and a Civil War hero," Eula wrote. "He was more than an accomplished scholar who met a sad end. He was instead a clear product of his historical moment."
In 1881, Upton committed suicide while serving as the Commanding Officer of the 4th U.S. Artillery at the Presidio in San Francisco.
"Why had he taken his own life?" Eula wrote. "For some, it was believed that he never fully came to term with Emily's passing. For others, it was the result of severe headaches which had become so overwhelming that the only recourse was this ultimate physical escape."