February 11, 2018 - 11:55am
Los Angeles clothing entrepreneur wants to bring Melton Company back to Batavia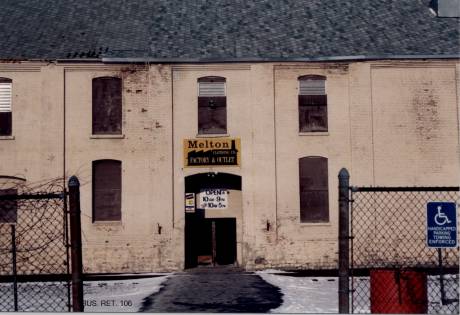 When Avraham Farzan, an engineer and clothing entrepreneur, heard that the Melton Company shut down, he decided to purchase it in 1998.
Farzan has been operating a successful clothing company in Downtown Los Angeles, but recently has been working to bring the Melton Company back to Batavia.
"I want to start from the seeds and roots that are in Batavia," Farzan said. "I want to have some kind of memory to be alive in Batavia."
In October 1918, Joseph Horwitz opened the Melton Company in the city of Batavia, according to a book written by Ruth McEvoy, written in 1993, titled "History of the City of Batavia." He leased the upper floors of the old post office building located at 10 Jackson St., and began manufacturing shirts under the company name, "Horowitz Shirt Company." The factory employed 15 girls, and moved to a more permanent location in July of 1920, at 43 Liberty St. in Batavia.
"It was one of the first shirt factories in the United States," Farzan said.
Horowitz began making shirts for the J.C. Penney Company, Montgomery Ward and Company, and other large firms in 1934. He expanded the building, to accommodate 225 employees as the company grew.
In 1941, Horowitz made 150,000 shirts for the Army. Horowitz died in 1955, and the Horowitz Shirt Factory closed soon after. His sons sold all of the sewing machines, folding machines, cutting tables, desks and stools at auction.
In 1965, Abraham and George Alpert leased the Liberty Street building and hired former Horowitz Shirt Factory employees to make Enfield Shirts. They sold the business to Monroe Davidson, who made woolen shirts and jackets under the name, Melton Shirts.
Davidson needed more space, and soon moved the company to 56 Harvester Ave.
"Melton was in Japan since 1969," Farzan said. "I've tried to bring it back to the U.S."
Farzan said they sold clothes made in the United States to many countries, such as Japan, Germany and other European nations.
In 1996, The Melton Shirt Company announced that it would not manufacture shirts at its plant due to the high cost of production, and would make the shirts or buy them outside of the United States. The retail operation and outlet stores were expected to expand, but its outlet stores closed less than two years later.
Farzan would also like to open a museum about Melton and retail store at the original site.
"My goal is to open a museum and small shop in Batavia because there are not too many companies like Melton," Farzan said. "Melton was the first."
Farzan said once he gets funding for the museum, which he is hoping will come from the owner of the building and the City of Batavia, he hopes to finalize the plans.
Any residents who have any information about the Melton company or memories to share, should contact Judy Stiles, [email protected]