Image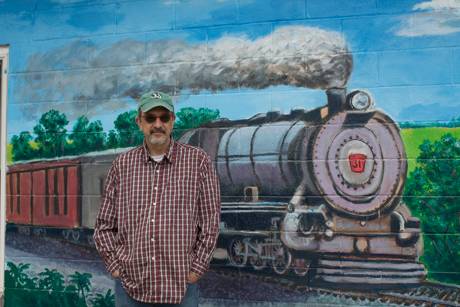 Nancy Bailey, the manager of the Byron-Bergen Public Library, said when she walked in the building every morning, the parking lot was boring and uninviting.
The parking lot was remodeled about a year ago and there was a big empty space on the wall. She said it was the perfect space for a mural. 
She applied for a Decentralization Grant from New York State through the Council on the Arts. Once the grant was approved, local artist Dave Burke got to work designing a mural that would reflect the community.
"The board members said we definitely needed a train because it was a big part of Bergen," Burke said. "It also has farmland, birds and a swamp, and will have a part of the trail."
Burke has been an artist all his life, but this is the first mural he has done. He usually paints on canvas or boards using watercolor or acrylics.
"The last couple years, I just started painting all the time," Burke said. "Work and other things just got in the way. I wish I had done this 30 years ago and totally concentrated on painting."
Burke mixes his own colors with acrylic paint and will seal the mural with clear varnish when it is completed.
The mural is dedicated to Eileen Almquist, the director of the Byron-Bergen Public Library, before she retired in 1983. Her picture is also painted on the mural, surrounded by children and books.
"Somebody suggested to put her up there," Bailey said. "It looks really neat with her up there."
Bailey said once the mural is completed, she would like to put park benches and chairs behind the library.
"It seems like a pleasant place to sit," Bailey said. "It gets enough shade here in the late afternoon and some early morning sunshine."
Bailey said there will be an unveiling when the mural is completed. 
Image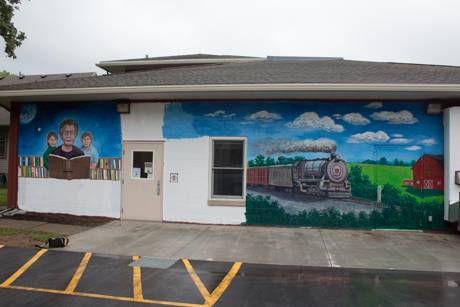 Image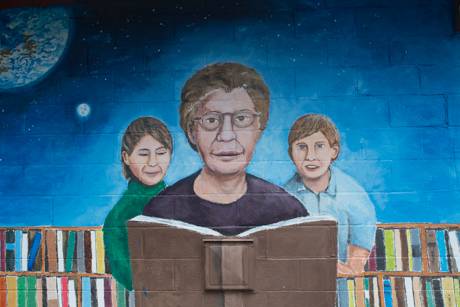 Image