August 10, 2017 - 10:10am
Musician from Batavia completing fellowship in Boston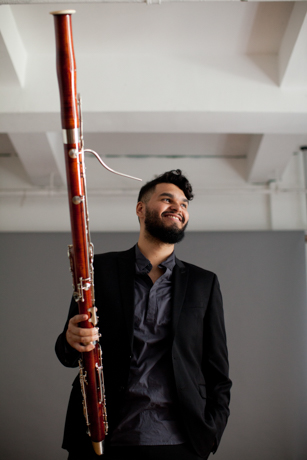 (Submitted photo)
Alexander Davis found a place for himself when he started playing the bassoon at Batavia High School.
Now, at 27 years old, he is completing his fellowship at the Tanglewood Music Center in Boston.
Davis went to SUNY Fredonia for music education and completed his master's degree at Stony Brook University. He started playing bassoon because he said it was a weird instrument.
"At first, I was playing saxophone," Davis said. "When I started going to All County Festivals, I saw a bassoon for the first time, and said I had to play it."
Davis said he was drawn to the instrument, but that his mom really pushed him to play music.
"She taught me that music was something that connected to me easily," Davis said. "When she had me start band in eighth grade, I was hesitant. Now that I'm here, I couldn't be more thankful for how much she loved me."
Throughout his career, Davis said he has looked up to multiple professionals, including Laura Koedke, Frank Morelli and Monica Ellis, all bassoon players. Each bassoonist, influenced him in a way no other person did.
"Each one taught me something about myself that I didn't know," Davis said.
Davis is part of Xelana Duo, which has brought him to play in venues such as The National Opera Center, and played with ensembles such as the New Juilliard Ensemble, and the CityMusic Cleveland Chamber Orchestra.
Davis said he pursues every opportunity he can. He would like to see himself in a chamber orchestra, teaching at a college, playing a lot of chamber music, or having his own studio in the future.
Batavia gave Davis the opportunity to have many experiences, he said.
"Kids that grew up in New York City and Rochester, there are more kids auditioning to be in groups, trying to be in ensembles," Davis said.
During a musical at Batavia, Davis was able to be a character on stage during the first half, and a member of the orchestra pit during the second.
"Because it was a very intimate setting, I was able to do everything I wanted to do," Davis said.
Growing up in Batavia helped shape Davis into the musician and person he is today.
"Batavia was the perfect place," Davis said. "You could be a big fish in a small pond."