August 14, 2017 - 2:08pm
Muslim turned atheist settles in Batavia while seeking asylum in United States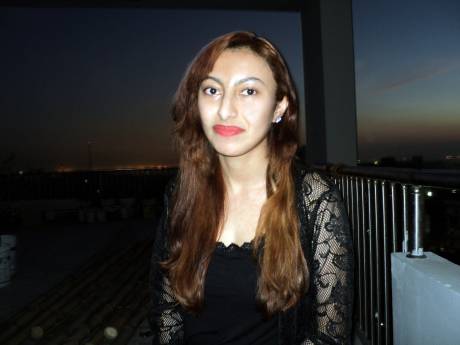 Zerin Firoze grew up in Bangladesh in a secular family with a well-educated father, where 90 percent of the people in the country are Muslims.
She wanted to be like any other kid and use YouTube to listen to music, watch tutorials and study for school. But in 2013, YouTube was banned in her home country after an anti-Islam video was posted.
Firoze said something special happened to her that day. Shortly after it was banned, she watched an anti-Islam film, "Innocence of Muslim" after some of her Muslim friends were sharing the video, asking for everyone to report it.
"After having a few conversations back and forth, I went back and read the Qur'an again," Firoze said. "I used an adult mind this time and I was shocked. Something happened to me that day."
Her new attitude toward Islam and problems at home set her on a path that brought her to Batavia for college and she hopes will eventually lead to Harvard Medical School.
Firoze was a high school student who started questioning Islam on social media.
"I sat up straight and thought, 'What is happening in my country?' " Firoze said. "2013 was a turning point in my life. I understood that everything I learned about religions is false and man-made."
She said she knew it was dangerous to question Islam on social media, but she did not stop. Overnight, she lost her Muslim friends.
"I did not know that my own Muslim friends and family that I have grown up with would try to kill me or harm me, just because I chose to question Islam," Firoze said. "There are several passages in the Qur'an that instruct Muslims to kill non-Muslims. I didn't want to kill Christians or non-Muslims because I have loving non-Muslim friends and they're amazing."
It's been a year since Firoze came to the United States and settled in Batavia.
She has applied for asylum in the United States because she would be killed by Islamic extremists or jailed by the government for speaking out against Islamic extremism.
"I would love to go back to my home country, but I would be killed," Firoze said. "I don't think it will change in the next 10 years. It will not get better. It will get worse."
After speaking out, Firoze received death threats from multiple terrorist groups in Bangladesh. Her name was on a death-threat list from one of the terrorist groups.
"My country is supposed to be a secular country," Firoze said. "It's still secular in the Constitution, but a majority of the people happen to be Muslims."
Firoze said they don't understand free speech or secular values.
 "You cannot call a country secular, then have a state religion," Firoze said. "It makes no sense."
When Firoze's father found out she received death threats from terrorist groups, he told her to get out.
 "I fought with my parents a lot and I could no longer take the abuse at home," Firoze said. "I got in touch with more secular friends from Western countries. I started documenting my miserable condition."
Firoze received a head injury from her father, which gave her a speech impediment. She told her friends she was forced to drop out of school and was locked in her room. She was not allowed to go out or do anything.
"My mom and dad said they could not keep an outspoken atheist at my house," Firoze said. "My dad threw me out many times for me wanting an education."
Her dad was highly educated, so Firoze never understood why her dad denied her education.
"I expected a lot more from my family," Firoze said. 
After her condition continued to get worse, her friends in the United Kingdom set up a GoFundMe to try to rescue Firoze from Bangladesh, after she began receiving daily threats from Islamist terror groups.
"At the time, it became too dangerous for me to stay in Bangladesh," Firoze said. "I had started receiving rape threats and death threats just for saying something on my own Facebook page."
It took Firoze almost two years to obtain her five-year visa to the United States, after being denied by the United Kingdom and Sweden for her single marital status, lack of ties to her home country and lack of funding.
Once in America, Firoze began to adjust to the American life. For the first time, she used public transportation by herself, wearing a short skirt.
In Bangladesh, Firoze said women could not take the bus or train alone because they would be harassed, kidnapped and raped. Women are also expected to follow conservative Islamic dress codes, wearing a burka and veil.
"My mom and my aunt started taunting me to be more modest," Firoze said. "All my high school friends started wearing burka and hijab. I was expected to dress like them and be like them to fit in. I never cared about fitting in."
The malls in Bangladesh stopped selling jeans, skirts and Western outfits. Firoze was told she should wear the hijab, but she said she finds the concept degrading and insulting.
"So many of my friends and girls in my country are burned and beaten to death, for not wearing the head scarf," Firoze said. "The hijab is a symbol of oppression."
One of her best friends in high school was forced into an arranged marriage, which is common in Bangladesh. According to UNICEF, 66 percent of girls are married before the age of 18, and one-third of girls are married before the age of 15. The legal minimum age for marriage is 21 for boys and 18 for girls.
"I raised questions about her marriage," Firoze said. "I said let her study. Allow her to complete her high school at least. I was the only one brave enough to stand up for her."
At that point, Firoze was struggling to complete her own education. She was told that because she was a girl, she did not need to study.
"That gave me the courage to speak against Islam, to speak against child marriage, to speak against terrible things happening in my country," Firoze said. "In 2013, two famous atheists were killed in my country; my country was becoming more Islamic."
One of her online Bengali atheist friends survived an attack with long-lasting neck injuries after being known an atheist blogger, while another atheist did not.
"In my home country, you can get jailed just for saying something on your Facebook page," Firoze said. "Ordinary people like you and me have said something on their Facebook page about the government or Islam and they got jailed for it -- or for sharing a cartoon or meme."
Firoze said there are more important issues that should be dealt with.
"People in my country don't have access to healthcare or food," Firoze said. "People are living in the streets. There are so many bigger issues in my country, and the government is after YouTube and Facebook."
Terrorism has something to do with Islam, Firoze said.
"I have seen this with my own eyes," Firoze said. "My classmates, friends, they became more radical. They became extremists after going to the mosque regularly. I have seen this in my own family and community."
Firoze attended a secular school from 7 a.m. until 2 p.m., would have lunch at home, then have Islamic classes from 4 until 6 p.m. She said her mom sent her to Islamic classes to "receive her moral values."
"I started disliking Islamic school from a young age," Firoze said. "It was horrible."
While atheists in Bangladesh have used pseudo names, Firoze has not.
"I am different," Firoze said. "I have used my real name and my real face. I have spoken against Islamic extreme groups for the last three years with my real name and picture on social media."
Firoze hopes to be a U.S. citizen in the near future and to attend Harvard Medical School to be a doctor. She started a Skeptics and Secular Humanists Club at college and hopes to spread secularism in the world.
"We must criticize and reform Islam," Firoze said. "We must protect the rights of Muslims, especially under the Trump Administration. Books and ideas do not have rights. Humans have rights. We must fight Islamic extremism from a place of moral strength and unity, instead of using far-right xenophobia, racism, and bigotry."
Firoze would like to start a secular club in Batavia if she finds enough like-minded secular or agnostic, atheist people in Batavia. If you would like to collaborate with Firoze, contact her via Facebook.
If you would like to support her efforts, click here.
August 14, 2017 - 6:52pm
#4
Wow. What a story. I am not sure that I have seen anything like this on TheBatavian before. It makes me question the motives for publishing. Clearly, the article could not be more anti-Muslim, which is downright shameful. Maybe a future article will be on someone that converted to become a Muslim and is now happy? Maybe, but I doubt that to be the case. I wish this woman all the success in the world and hope she goes on to Harvard and becomes a Doctor. I do highly doubt that TheBatavian has helped her cause much. As many of us mourn the tragedy in Charlottesville, I am thinking the Trump/Collins loving people in the area will not be so welcoming. A Muslim turned Atheist in the GLOW area is not likely to have the welcome mat thrown her way. And even scarier, those that do throw out that mat will be folks like Candace who may mean well, but just will never get it. Good luck to you Zerin. The Trump/Collins agenda and those that support it will not be kind to you. Sadly, you are surrounded by the majority that think their way.