August 3, 2017 - 10:25am
New diner in Corfu has hopes of leaving customers with full stomach, full wallet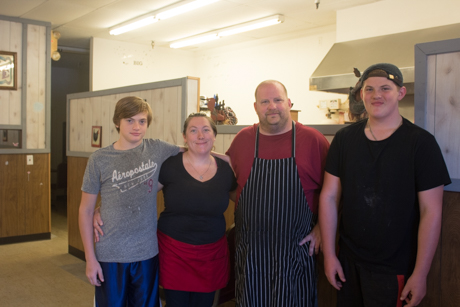 A few members of the Toy family, from left to right, Coby, Tracy, Wade and Tyler.
Wade and Tracy Toy have five kids and know the struggle of getting a good meal for a large family, without breaking the wallets.
That's why they opened Three T's Family Diner, located at 2 Corfu Plaza in Corfu. While they live in Cheektowaga, the travel time is worth it, Tracy said.
"It seemed like the small town didn't have much going for it," Tracy said. "We figured if we do this, maybe other things would pick up and the town would be back to where it was years ago."
Wade and Tracy found the Corfu location on Craigslist and thought the place had potential.
They started renovating the location in January and finished in May. Wade said they stripped everything right down to the firewalls.
Wade used to drive a truck and Tracy was a railroad clerk, up until the beginning of this year.
"We both quit our jobs to put our time and effort into the diner," Tracy said.
Tracy said they plan to leave the diner to their kids, Jessica, 23, Joshua, 21, Jacob, 19, Tyler, 15, and Coby 13.
"We also have a 4-year-old grandson that comes here," Tracy said. "He gives out the menus and straws."
The hope is that further down the road, Wade and Tracy will pass the diner along to their kids, while they go mobile and purchase a food truck for events and parties.
For locals, if they have ideas for what should be on the menu, Tracy and Wade are open to suggestions.
"We'll try it out," Tracy said. "Even if we don't know what it is, we will look it up and figure it out."
Wade said one customer requested chipped beef and gravy last week, which has been added to the specials. Tracy said they hope to receive a lot of feedback from customers.
The diner is open every day of the week, except Wednesday, from 8 a.m. until 3:30 p.m., and accepts cash only.
They just started with takeout and delivery only to local businesses.
Tracy said they hope to expand to dinner hours in the near future.
"People can come here with their families and have a good, decent meal," Tracy said. "Then, they can leave with money in their wallet and still be able to take their kids out."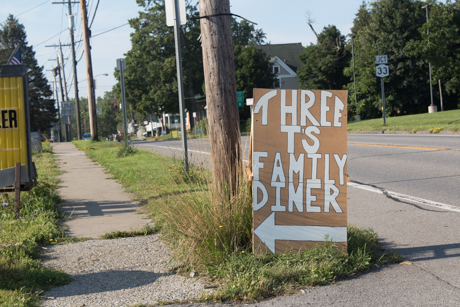 The diner is located behind the carwash in the Corfu Plaza, next to the American Family Market.