November 22, 2017 - 10:10am
Prostate cancer survivor educates local firefighters about the dangers of cancer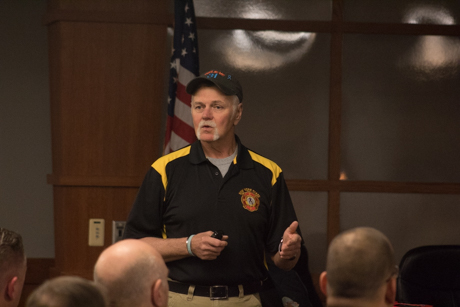 Around 61 percent of firefighters get occupational cancer in the line of duty, according to an article in the NFPA Journal. (NFPA stands for National Fire Protection Association.)
Lieutenant Mahlon Irish Jr., of the City of Ithaca Fire Department, is one of those 61 percent. Irish was diagnosed with prostate cancer in 2014. Firefighters from four different counties traveled to Batavia City Centre on Monday to hear him share his story as a prostate cancer survivor.
"We have proof that there is a link between our job, whether it's volunteer or career, as a firefighter, and cancer," Irish said. "We have proof that's happening."
Irish has almost 44 years in the fire service. He spent 30 years as a NYS Fire Instructor, served the City of Ithaca for more than 22 years as a firefighter and lieutenant, and past chief and current member of the Homer Fire Department.
"The risk doesn't end when we hang up our gear," Irish said. "Our exposure to some of these chemicals go on for [a long] time."
Irish educates firefighters about the increased dangers of cancer. He said a lot of the information from studies he shared is relatively new.
"We did not know about a lot of this five years ago," Irish said.  
Multiple chemicals are released in fires, including hydrogen cyanide, an extremely poisonous gas that was used in gas chambers.
"Because of what is burning today, we are seeing more and more hydrogen cyanide," Irish said.
Fires 20 or 30 years ago were "natural fires," mostly wood, Irish said. They are seeing more hydrogen cyanide being released, because of carpets, plastics, TVs, and other objects that are burning.
Irish spoke about the contamination of firefighters' bodies from today's fires and how it affects them. He recommended for firefighters that go into a fire, they need to shower and wash their gear immediately afterward.
"[Chemicals] still get there," Irish said. "They penetrate our turnout gear, our undergarments, all the way through T-shirts and gets to our skin."
Stefano Napolitano, Batavia's fire chief, said they are looking to enact different methodologies and techniques to reduce the exposure.
"Cancer doesn't know career or volunteer," Napolitano said. "Cancer doesn't know urban, suburb and rural."
Irish shared his story about issues of being diagnosed, his pre-and post-radical prostatectomy surgery, and the physical, mental and financial impacts of living with prostate cancer.
"I am living with cancer and I made the choice to not let this cancer negatively affect my life," Irish said. "It has affected my life in some ways I can't change, but I choose to make it on the positive side."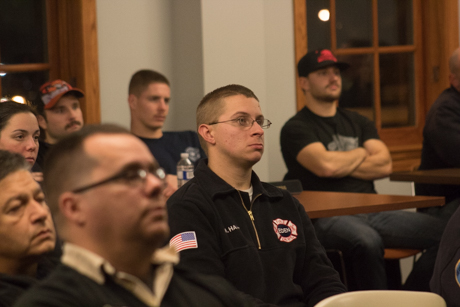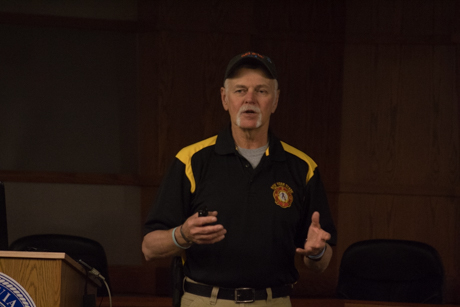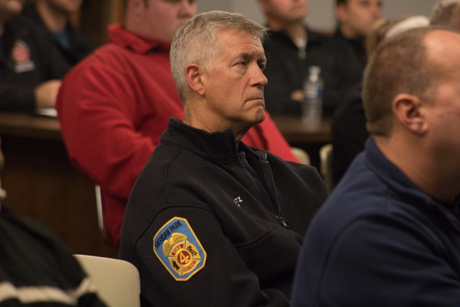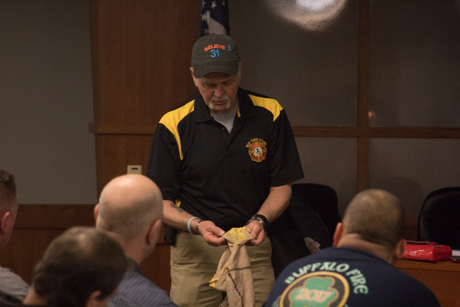 Irish showed the audience multiple hoods, comparing them, discussing which ones would protect firefighters the best.