September 27, 2017 - 5:17pm
Sisters take a leap, opening up a salon in Batavia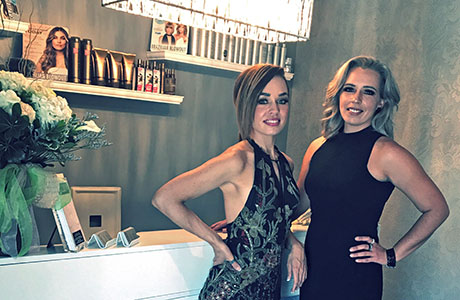 Throughout the last month, two sisters from Oakfield have been planning, renovating and putting together a hair salon in Batavia.
Platinum Salon opened its doors at 6 S. Lyon St. on Tuesday for a soft opening.
"We are doing it together," said Nicole Toal, the business manager.  
Toal and her sister, Alicia Desjardins, grew up in Oakfield. Toal still lives in Oakfield, while Desjardins resides in Batavia.
Desjardins has been in the cosmetology business for more than 20 years and has always wanted to open up her own salon.
"She finally went ahead and took that leap," Toal said. "I'm more of the business side. I'm on board to help her get things going."
Platinum Salon offers a variety of services, including haircuts for each member of the family, coloring, microblading, and eyelash extensions.
"She does a lot of the beauty trends that are out there now that a lot of other places don't offer," Toal said. "Those are the big things that a lot of people have to go to the city to get, but now they can stay local and get those treatments done."
Before opening the salon, Toal was a graphic designer, and Desjardins worked at another salon.
"It was sad to let it go," Toal said. "But I'm excited to do this together. We're sisters. We've been best friends since we were kids, so it'll be a lot of fun."
A month ago, Desjardins began putting her dream into plans and found a location for the salon.
"As soon as she started to look, she found this place a few days later and we jumped right in, doing it as quick as we could."
The previous renters also owned a salon, Toal said.
"She closed her doors for whatever reason, and the space sat empty for a couple years," Toal said. "We came in, remodeled the place, cleaned it up, fixed it up and put our own little touch on it."
Their father and Toal's husband did the renovations that were needed for the space.
"They're both carpenters, so they're real handy with that stuff," Toal said. "It's definitely a family kind of thing that's being going on."
Toal said they are planning on doing a grand opening on Saturday.
The salon is currently open Tuesday through Friday 10 a.m. until 9 p.m., and Saturday 10 a.m. until 5 p.m. Those interested can book appointments through their website, located here.
Submitted photos.


September 28, 2017 - 8:00am
#1