September 20, 2021 - 10:42am
Atwater 'grandchildren' delighted over GCASA's preservation of historic homes' integrity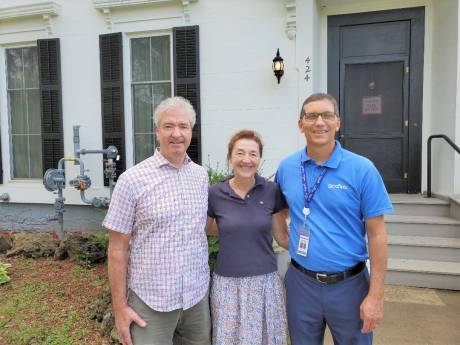 Two members of a prominent family with deep ties to Batavia – notably a pair of the stately homes that now are part of the Genesee/Orleans Council on Alcoholism and Substance Abuse campus – paid a visit last week to the community that has provided them with many fond memories.
Stephen Atwater of Walnut Creek, Calif., and his sister, Sarah Atwater Mayer, of Scarborough (Westchester County), are the grandchildren of Edward Perrin and Rowena Washburn Atwater, who purchased the historic house at 424 East Main St. in 1937. Edward P. Atwater was president of Batavia National Bank.
(Stephen and Sarah are in the photo above with John Bennett, GCASA executive director, in front of the home at 424 East Main St.)
Built in the 1830s, the Greek Revival and Italianate-style structure has for the past 23 years served as GCASA's Atwater Community Residence, a place where up to 17 adult male and female clients can live while receiving professional services to help in their recovery.
Furthermore, Stephen and Sarah are the great-grandchildren of Judge Edward A. Washburn, who owned what is known as the Washburn house at 430 East Main St., which now is GCASA's primary substance use disorder treatment facility.
And their mother, the late Patricia Carr Atwater, was the granddaughter of C.L Carr, who founded the Carr's department store in downtown Batavia. It was later taken over by her father, Robert Carr, and then her brother, (the late) Steve Carr.
Stephen and Sarah's aunt, Beth Carr, who resides in Stafford, was closely involved with managing Carr's store with her husband, Steve, prior to its closing.
"It was known as Batavia's Finest," Stephen said of the store, "and it still is."
'WE HOLD THE CITY NEAR TO OUR HEARTS'
"Moreover, we're proud to be a part of Batavia and to have a strong attachment to the city based on our family history as it relates to the Atwater, Washburn, and Carr families," he said. "We hold the city near and dear to our hearts."
Stephen and his twin brother, John, and sisters, Sarah and Martha, were born at Genesee Memorial Hospital in Batavia and, although they grew up in Rochester, spent much time during their childhood years in the 1960s at their grandparents' home at 424 East Main St.
Sarah and Stephen said they are pleased about the way GCASA has maintained the architectural heritage of all of the houses on its East Main Street campus.
"We think it's wonderful," Sarah said, with Stephen adding, "We're happy to see it is being used and that they have maintained the appearance and integrity of the houses. The fact that they maintained the character of the house is priceless."
A special feature of the interior is the Mexican mahogany paneling in the library, which was one of the last jobs completed by the Batavia Woodworking Company before it ceased operations in 1939.
Stephen said he and Sarah were in the area to take care of things at the Rochester home of their father, Julian "Joe" Washburn Atwater, who passed away on July 30 at the age of 90. They also went to Le Roy to check on the headstone of their father, who will be buried at Mount Hope Cemetery in Rochester, where his brother, Edward, and his wife, Patricia Carr Atwater, are buried.
Julian Atwater received the nickname Joe while he worked at the former Massey-Ferguson plant in Batavia back in the '50s, Stephen recalled.
"Someone asked him what his name was and he said, 'Just call me Joe."
Their father, who went on to become a corporate lawyer in Rochester, had two older brothers -- the late Edward, and James, now 93. They were the sixth generation of their family to live in Western New York.
A 'GIFTED' CHILDHOOD IN BATAVIA
Sarah said the many days in Batavia with her grandparents, parents, aunts, uncles and cousins contributed to a special childhood.
"We had a very, very gifted childhood by being able to spend so much time in Batavia in the sixties," she said, noting that the four Atwater children would take the Trailways bus from their Rochester home to Batavia to stay at their grandfather's house.
Stephen said he remembers sliding on the bannister and playing billiards on the pool table that was "right at the bottom of the staircase."
"And they had a cat named Walter Mitty," he said. "One of the things we did when we got to the house would be to try to find the cat, but often times we couldn't find him."
He said he recalls going to the Treadway Inn with his grandmother to have roast beef au jus, dining at Mancuso's Italian Restaurant and attending St. James Episcopal Church.
Sarah said she enjoyed the walks down Main Street and having lunch at the counter at JJ Newberry or going to see their maternal grandfather at Carr's store.
"I love Batavia but when I come here, I try to imagine it the way it used to be," she said. "It's getting better, though. My brother and I went to Eli Fish and the brewery – because GCASA has one of Eli Fish's old houses, too. We noticed the old JJ Newberry sign.
"Carr's Department Store (being gone) makes us really sad because we loved that. I still talk to people who say their parents went there for everything. They bought their furniture there, their makeup, their jewelry, their baby clothes. We rode the elevator; I remember the gumball machine on the third floor."
ATWATER HOUSE CALLED 'ICONIC'
Stephen, a veterinarian specializing in treating animals with cancer, and Sarah, who is retired, were joined by their brother, John, on a phone call with The Batavian. Martha passed away in 2013.
John, a chemist from Potomac, Md., called the house at 424 East Main St. "iconic."
"It represents the wonderful times that I spent there as a kid in Batavia, which was such a fun town to be in," he said, with Sarah adding, "A charming, small town."
Although the long row of storefronts on the north side of Main Street gave way to Urban Renewal in the early 1970s, Sarah remarked that the city still has "a lot of potential."
"We still love it," she said, asking about the Greet yogurt plant (which now is HP Hood in the Genesee Valley Agri-Business Park), O-At-Ka Milk Products and other places of employment to attract young people to Batavia.
Ultimately, Stephen said they consider it an honor that the Atwater and Washburn family name continues to hold a special place in the community.
"I think the fact that we are able to give something back to the community that maintains the name of the Atwater family is an honor," he said. "And to have that history entrenched in the City of Batavia as it was, obviously, is such a large part of our heritage."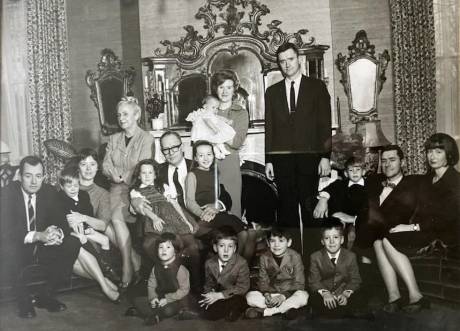 Photo: Atwater family photo from 1964 in the Atwater House living room -- sitting on floor, from left, children Connie, John, James and Stephen; seated from left, James and his wife, Joan, holding son, David; Rowena Washburn Atwater and her husband, Edward Perrin Atwater, holding grandchildren Rebecca and Sarah; young Ned, with his father, Edward C. Atwater, and his mother, Ruth Prole Atwater; standing, Patricia Carr Atwater, holding daughter Martha, and her husband, Julian Washburn Atwater. Julian and Patricia are the parents of Stephen, John, Sarah and Martha.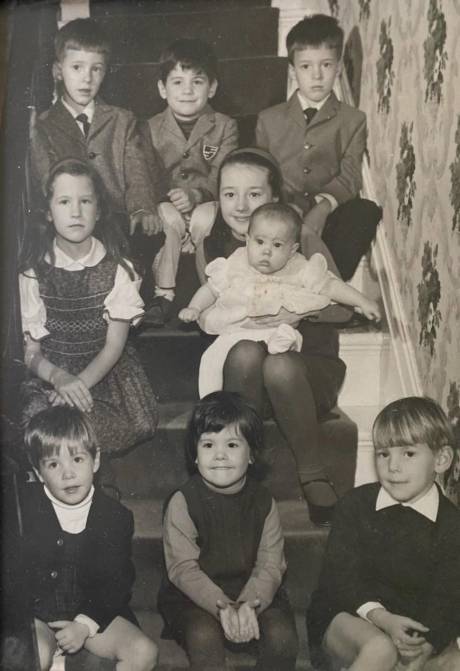 Photo: The Atwater grandchildren in 1964. Front from left, David, Connie, Ned; middle, Rebecca, Sarah and baby Martha; top, John, James, Stephen. Andrew, the 10th grandchild of Edward Perrin and Rowena Washburn Atwater, wasn't born yet. Andrew passed away in 2013, three days before his cousin, Martha. Submitted photos.
Disclosure: Mike Pettinella is the publicist for GCASA.