February 28, 2017 - 1:44pm
Chamber Awards: Special Service Recognition, Red Osier Restaurant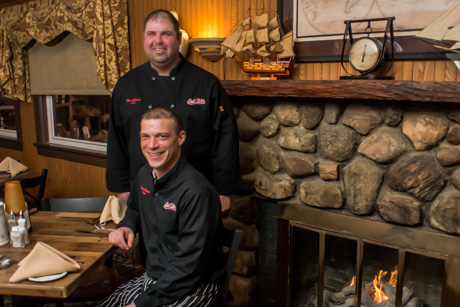 Give and it will be given unto you.
"When we took over operations in Thanksgiving of 2015, we had one goal – to give back to the local community," said Steve Foster who, along with business partner Tim Adams, has successfully tied charitable giving with quality food and service to make the Red Osier® Restaurant in Stafford a premier dining destination of Western New York.
"Genesee County has been forgotten over the years here," Adams said. "We believe that the more we support local organizations, the more success we will have."
Foster, an Alexander native, and Adams, who grew up in East Bethany, officially took ownership of the restaurant – known throughout WNY for its prime rib – on April 20 of last year, and have displayed a large measure of generosity to the people of Genesee County through event sponsorships, donations and employee-supported fundraising.
As a result, the Red Osier® Restaurant has been selected as the Special Service Recognition of the Year award from the Genesee County Chamber of Commerce.
Foster and Adams, who also own Adams' Welding & Fabrication in Stafford, will be honored at the 45th annual Awards Ceremony on March 4 at Quality Inn & Suites on Park Road.
In her nomination letter, Lynette Skelton of Starowitz Farms in Byron praised Foster and Adams for purchasing the restaurant – possibly saving it from closing for good and saving the jobs of around 60 employees.
"The two men decided to take the chance, and the opportunity to save the local landmark and the local jobs in their community," Skelton wrote.
Foster, a Red Osier® employee since 1998, said he was hesitant about buying the business – "it needed a lot of help," he said – but finally agreed. Since then, and he and Adams have moved full speed ahead.
The list of the duo's Genesee County civic contributions over the past 18 months is impressive, to say the least:
-- The Genesee County 4H program. Tim is a former Geneseean of the Year for his service to 4H and Cornell Cooperative Extension, and he is continuing his support by purchasing two pigs (which have been processed for special dishes at the restaurant).
-- GO ART!'s Picnic in the Park. The restaurant was the major sponsor for the July 4th event last year, coming to the forefront at the last minute to prevent the event from being canceled.
-- Genesee Cancer Assistance. A joint venture between the restaurant and welding shop last Thanksgiving resulted in the presentation of $10,000 to GCA – money derived from proceeds of diners that day and a contribution from the welding shop.
-- Le Roy Food Pantry, Genesee County Animal Shelter, Crossroads House, Michael Napoleone Foundation. The two men contributed to fundraisers supporting these causes.
-- Oatka Festival, American Warrior Event at Frost Ridge, Le Roy Youth Football.  The restaurant signed on as major sponsors for these events, and also has sponsored individuals participating in horse shows, cheerleading contests, and other endeavors.
-- Spirits & Skivvies. An employee-led initiative, more than 600 pairs of socks and underwear were donated to the homeless.
"Our staff is right with us every step of the way," Foster said. "They are on board with our donation program."
On the business side, the owners said they have "broken every record" for sales – seeing repeat and new customer and raising the average per capita bill from about $25 to around $45.
"Everything here is made from scratch – the meals, desserts, salad, bread; it's all fresh," Foster said.
While prime rib is the main attraction, the menu includes a variety of dishes, and much of the food and some of the spirits and liquors are purchased from local vendors.
The owners also reported that, upon their return from a recent trip to Nashville, they have purchased a custom-built, 24-foot food trailer with a full kitchen "to take our chefs out on the road."
They said they will be able to cater weddings, parties, graduations and other gatherings, and hope to get that started in May.
"It's a replica of our kitchen," Foster said.
The Red Osier® opens at 4 p.m. Tuesday through Saturday and at 1 p.m. on Sunday. For more information, check out its website – www.redosier.com.