November 22, 2017 - 11:40am
Couple's organic farm pond receives go-ahead from Batavia Town Planners; QDOBA coming to Batavia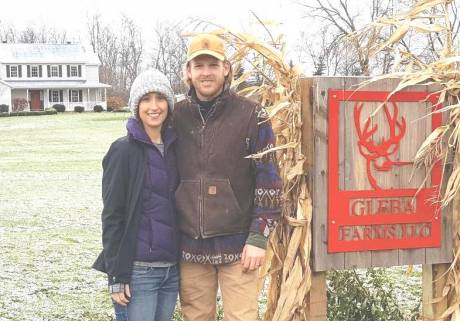 As they approach the Thanksgiving holiday, Tim and Amanda Gleba are thankful for being able to "live off the land" on their 50-acre organic farm and, most recently, for the Batavia Town Planning Board's approval to build a pond for agricultural purposes.
Town planners on Tuesday night OK'd a special use permit for the couple to construct a half-acre pond behind their home at 3726 South Main Street Road.
 "The pond will be used for irrigation and for watering our livestock," Tim said, adding that working the farm is a labor of love. "It's a hobby of ours; something we really enjoy."
Both Tim and Amanda, Batavia High School graduates who got married in June 2016, have full-time professions.
He is a precision machining instructor for Genesee Valley Educational Partnership at the Batavia campus on State Street Road, and Amanda (maiden name, Torrey) is a senior food tech at Perry Ice Cream in Akron.
They farm about five acres of their property, growing organic vegetables and keeping free-range chickens for eggs, Tim said. They are working toward certification through the Northeast Organic Farming Association.
The Glebas also planted Christmas trees that will be ready for sale in about five years, and plan to develop a certified tree farm.
The couple says they are committed to this lifestyle -- and sharing the fruits of their labor with others. They credited Tom Ryan of Ryan's Rose Organic Farm on Rose Road for helping them in their endeavor.
"We're homesteaders," Amanda said. "That was the main thing that got us started … for us to benefit from the land. Now, the community can benefit as well."
Public participation is possible due to the fact that Gleba Farms LLC is a Community Supported Agriculture farm that offers yearly memberships to people interested in obtaining their vegetables and eggs. Vegetables include corn, peppers, tomatoes, cabbage, squash and pumpkins.
When available (produce is seasonal, of course), folks can come to the farm to pick up their vegetables, Amanda said, noting that membership dues enable them to keep the service going.
The Glebas also sell meat from heritage breed turkeys and American guinea hogs (a gourmet meat), which they send out for processing.
For more information about the CSA, go to www.glebafarmsny.com.
Tim said they will start work on the pond next May or June. The only requirement of the special use permit is that town engineers must approve the design to ensure that elevations and overflow systems are built correctly.
In other action, Planners:
-- Set a public hearing for 7 p.m. Dec. 19 in connection with the proposed re-subdivision by developer Peter Zeliff at Oakwood Estates off East Main Street Road.
The modifications, which have been approved by the Town Zoning Board of Appeals, focus on dividing 35 parcels into 70 parcels, paving the way to build duplexes or smaller single-family homes.
-- Approved a request for two signs at the new T-Mobile location at 8400 Lewiston Road, next to Total Tan. The business was expected to open today.
-- Learned that QDOBA Mexican Eats will occupy the building on Veterans Memorial Drive, next to Home Depot, that is being constructed to also house Five Star Urgent Care. The structure is about 25 percent complete.
QDOBA, according to Wikipedia, is a chain of fast casual restaurants in the United States and Canada serving Mexican-style cuisine. The company is a wholly owned subsidiary of Jack in the Box since its purchase from ACI Capital, Western Growth Capital, and other private investors in 2003.
There are QDOBA locations in the Buffalo, Niagara Falls and Rochester areas.
Photo -- Amanda and Tim Gleba at Gleba Farms LLC. Photo by Mike Pettinella.