September 11, 2021 - 12:01pm
Emotional reaction to 9/11 inspired city police officer, firefighter to do their part to protect our freedoms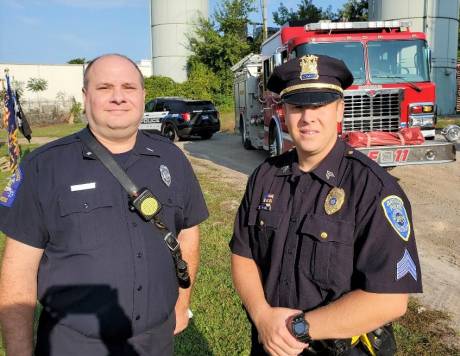 This morning's 9/11 remembrance at the Veness-Strollo Post 1602 VFW grounds included speeches from Det. Sgt. Matt Lutey (at right in photo above) of the Batavia Police Department and Lt. Dave Green of the Batavia Fire Department – both of whom said the events of that tragic day prompted them to enlist or re-enlist, respectively, in the military.
Here are their speeches:
Det. Sgt. Matt Lutey
It truly is an honor to be here among fellow service men and women who have served and those who continue to serve, and I would just like to take a moment to say thanks for what you do.
I just came across an article the other day that compared the two biggest military recruitment surges as Pearl Harbor and 9/11. The unique aspect of this is that those who enlisted after these events knew what they were signing up for.
It wasn't for free college tuition and it wasn't for pay or any other benefit. It was to step forward and fight for our country. I was in high school when 9/11 happened.
I'll never forget the events of that day. I'll never forget how I felt. I will never forget driving around after school and seeing everyone putting up American flags.
I will never forget the pride I felt for our country after that tragic day. I will never forget the images of first responders running toward the World Trade Center towers to help people while the majority of people were running away.
I will never forget the images of the men and women in the armed forces bringing the fight to the enemy who had the audacity to attack us on our soil that day.
I will never forget coming home to my dad on the phone with an Army recruiter, only to be turned down because he was too old to join.
The events of 9/11 and our country responses shaped the better part of my life. I was one of many of the post-9/11 military recruitment surge as I enlisted in the U.S. Air Force after I graduated from high school in 2003.
I served six years as a TACP (Tactical Air Control Party Officer) calling in air strikes for my Army counterparts. I completed three tours in support of Operation Iraqi Freedom. After I was honorable discharged, I knew that I wanted to continue to serve but in a capacity that was more personal to me.
I was fortunate enough to join the Batavia Police Department where I have had the privilege of serving my community for the past 11 years. In no way do I share this story for personal accolades. I share it because I believe it our duty to educate the next generation about duty, service and sacrifice.
Lt. Dave Green
I had been discharged from the Army National Guard just a couple of years before that. I went to work that morning, met up with my partner on the ambulance, and we went to work – met up with the other ambulance crew for the day and had just gotten some breakfast at the hospital that morning.
It's strange but I remember details of that morning but the rest of the day was a blur. After seeing the planes hit the towers and the other locations, and the continuous news reports, I can remember feeling helpless and feeling a need to do something.
In the hours that passed, we sat and watched our world change. I'm proud to say that the City of Batavia Fire Department stepped up and sent crews to New York City as soon as we were able. However, I was not in that response.
So, for me, there still a feeling I needed to do something. After a discussion with my wife, I decided to get back in the military in a reserve capacity. As time passed, I still felt the draw and eventually got my time to serve.
I eventually deployed on three separate occasions to the wars in Iraq and Afghanistan. The City of Batavia supported my efforts and allowed me to keep my medical coverage for my family while I was serving overseas.
I'm extremely grateful for the opportunity to serve my country and to be able to serve the community where I live. On this anniversary of this tragedy I'm drawn to a memory of one of my deployments, where a sign hung that said, "Today is September 12th."
For me that means a chance to help pick up the pieces; to show that we are stronger than that event. I'm proud to be a veteran, a firefighter and a member of this community.