August 13, 2018 - 7:00pm
Eunice, N.M., loses a city manager, Batavia gains one with hiring of Martin Moore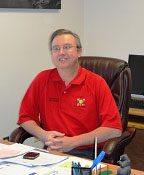 Updated at 8:55 p.m.
City Council voted by an 8-1 margin to hire Martin Moore, Ph.D., as the City's new manager, replacing Jason Molino who left for an administrative position in Tompkins County in January. A story about the voting at a special business meeting at City Centre Council Chambers will follow.
----------------------
The Batavia City Council is expected to approve the hiring tonight of Martin Moore, Ph.D., city manager of Eunice, N.M., since 2011, as the city's new top executive.
Moore has accepted a three-year contract, which must be approved by the council tonight, to fill the vacant city manager position in Batavia.
Moore will begin his duties in Batavia on Oct. 15.
City Council President Eugene Jankowski said Moore could not attend tonight's meeting due to a family wedding but will be available via video conference at 3 p.m. Wednesday at City Hall.
Jankowski had nothing but words of praise for Moore, who was voted "City Manager of the Year" in 2015 by the New Mexico Municipal League for his "handling of the city's finances and progress of the community and how it operates."
"He is articulate and personable," Jankowski said, "and all of us have been very impressed by him."
Moore also won praise from Councilman Art McGinnis.
"He was mature, gave great answers and has incredible experience," McGinnis said. "We really won out on this one. Big time. I'm very happy."
Jankowski said Moore's wife has family in North Tonawanda and that they have been looking at relocating to Western New York.
Eunice is a city of about 3,000 people, located just west of the Texas border in the southeast corner of New Mexico.
It operates under the guidance of a nine-member City Council, including Mayor Billy Hobbs. According to the city's website, it is in a "period of sudden growth," with the oil field (its main employer) in a boom period, due to the price of oil.
"All companies are in need of employees with unemployment for Lea County running at 0 percent.
"Also, the National Enrichment Facility has received their license and will be building a $1.7 billion project five miles out of town.
"They will employ approximately 250 permanent employees and have up to 1,000 construction workers on site in two years. The total project will take seven to 10 years to build."
Additionally, the website reports that its schools are "top-notch with prekindergarten through 12th grade. The community is very involved with all levels of sports and has many state championships in all." The Eunice High School baseball has produced 17 state championships, which is fifth-most in the nation.
Moore's contract, as reported first on The Batavian, calls for a starting salary of $110,000, with increases of $2,000 annually. He also will receive retirement benefits, paid family medical insurance, three weeks' vacation, life insurance, and relocation reimbursement up to $10,000.
His previous executive management experience includes a four-year stint as a consultant, census 2010 crew leader and general manager in Timberon, N.M.; county manager for Otero County, N.M.; executive director of Eastern Arizona Counties, and director of development and community services for Apache County, Ariz.
An Eagle Scout, he was a member of several professional associatons and president of the Rotary Club of Eunice, N.M.
Moore replaces former manager Jason Molino, who left in January for a similar position for Tompkins County. Public Works Director Matt Worth has been handling the city manager responsibilities on an interim basis since Molino's departure.
August 13, 2018 - 8:53pm
#1
Sounds like a good choice from what most of the Council members were saying at the meeting.