Image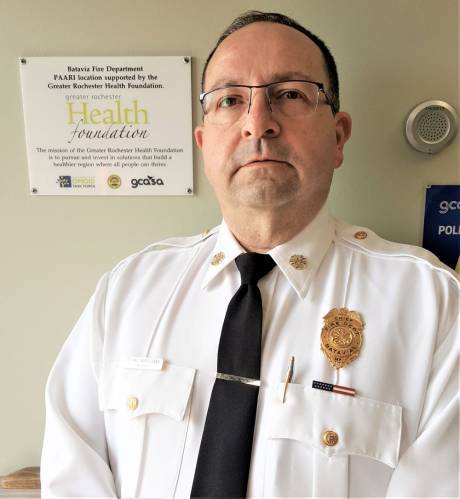 Press release:
The Genesee County Health Department, Genesee/Orleans Council on Alcoholism and Substance Abuse, GOW Opioid Task Force and local police/public safety departments have come together to offer an innovative program for Genesee County residents dealing with substance use disorders.
The City of Batavia Police Department, Genesee County Sheriff's Department, Village of Le Roy Police and, most recently, the City of Batavia Fire Department have signed on to participate in the Police Assisted Addiction and Recovery Initiative (PAARI).
This is a nationwide effort to provide support and resources to help law enforcement agencies create non-arrest pathways to treatment and recovery.
"We wholeheartedly believe in a 'multiple pathways to recovery approach' and PAARI is an important component in that philosophy," said John Bennett, GCASA executive director. "The commitment of local law enforcement and now the Batavia City Fire Department to this program expands the spectrum to access services."
The City of Batavia Fire Department is the first fire department in New York – and one of only a few in the nation -- to enlist in PAARI.
Fire Chief Stefano "Steve" Napolitano said he is proud to unite with the other Genesee County agencies already in the program.
"As a fire-based emergency medical services provider within the City of Batavia, we have firsthand knowledge of the opioid dilemma within our community," he said. "In an effort to assist with this problem, we have designed an intake location within fire headquarters to provide a safe and judgment-free place where a person can come and seek assistance and interventional services. This, in turn, can prevent an overdose death and increase the safety of responding crews by having a safe setting in which to assist."
Napolitano added that PAARI "aligns with our department's mission to provide life safety services to all in need and, hopefully, our involvement acts as a catalyst for other fire departments to join in this endeavor."
The foyer inside the public entrance to the fire headquarters on Evans Street has been renovated with funding from the Greater Rochester Health Foundation, a major sponsor of the GOW Opioid Task Force.
City of Batavia Police Chief Shawn Heubusch, who chairs the law enforcement work group of the GOW Opioid Task Force, has been instrumental in making the PAARI program a reality in Genesee County.
"The City of Batavia and Batavia Police Department have taken a proactive approach to assisting with the opioid epidemic by becoming part of the county-wide PAARI program," Heubusch said. "This allows those suffering from substance abuse disorder to come to the police station, anytime of the day or night, to ask for assistance. We will then, no questions asked, contact a peer support advocate and connect that individual."
He added that his department is "proud to do our part to help stem the opioid crisis by getting those community members that are in need into services, and by helping reduce the stigma of substance abuse."
 "It's important that the community knows that this program is here and that recovery is possible," said Christen Ferraro, GOW Opioid Task Force coordinator. "On behalf of our hundreds of task force stakeholders, I would like to thank law enforcement for participating in PAARI and other initiatives and, especially, the Greater Rochester Health Foundation for its continued support."
Ferraro noted that peer advocates are currently available for telephone and internet support during the COVID-19 situation, with normal face-to-face interventions to resume as conditions warrant.
Photo: City of Batavia Fire Chief Stefano Napolitano stands next to the plaque designating fire headquarters on Evans Street as a Police Assisted Addiction and Recovery Initiative location.
Disclosure: Story and photo by Mike Pettinella, GCASA publicist.