February 17, 2022 - 3:20pm
Herberger decides against taking permanent City of Batavia fire chief position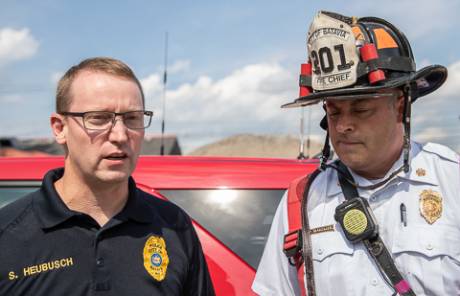 About seven months after stepping in as the City of Batavia interim fire chief, Dan Herberger apparently has decided that he doesn't want the job on a permanent basis.
In a letter dated today to fire department personnel, Herberger informed his colleagues that he has declined the position, calling it "an extremely difficult decision for me to make that was based on two very basic reasons that I could not get past."
He wrote that those two reasons were that the timing wasn't right for his family and him and "his overall love I have for the job and the desire to be a fireman working on a fire truck."
Herberger was named interim chief in July 2021 when Stefano Napolitano resigned as fire chief to take the deputy state fire administrator on the State University of Albany campus.
Continuing with the letter, Herberger mentioned that he enjoyed being the fire chief and was thankful for the support he received from city management, department heads and those that he supervised.
"As a department, we are very fortunate to have the relationships we do with our partners in other city departments as well as our partners in the county Emergency Management, area fire departments and local emergency services agencies," he wrote. "It is an absolute joy to have worked with everyone in this capacity … making this decision that much more difficult."
He wrote that he plans to stay on as the interim chief until a replacement is found.
"It is the hope of the city manager (Rachael Tabelski) that my replacement will be from within this department and over the next several weeks/months, we will work to find the right replacement," he wrote.
Herberger, a captain prior to the interim appointment, has worked for the fire department since 2002, starting as a paramedic. He was promoted to firefighter in 2005, lieutenant in 2012 and captain in 2013.  Previously, he served in the interim chief role for 16 months prior to the hiring of Napolitano in April 2017.
Responding to an email from The Batavian, Tabelski issued the following statement:
"Dan Herberger is a great Captain and a great Fire Chief.  I respect his decision to decline the offer of the position of Fire Chief at this time, and am grateful that he will remain in the department working for the City of Batavia.  He is a valuable member of our team.
Herberger will continue to serve as Interim Fire Chief until a new Chief is hired.  I am soliciting internal candidates, and hope the position can be filled from within the department." 
File photo: City Police Chief Shawn Heubusch, left, and Interim Fire Chief Dan Herberger. Photo by Jim Burns.
Previously: Napolitano shows humility as he bids farewell to the city; Dan Herberger to assume role as interim fire chief