November 3, 2016 - 8:10am
Hotel ribbon cutting officially marks 'transformation' at Batavia Downs Gaming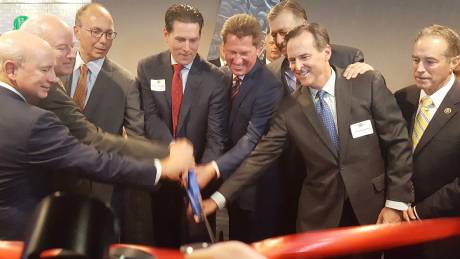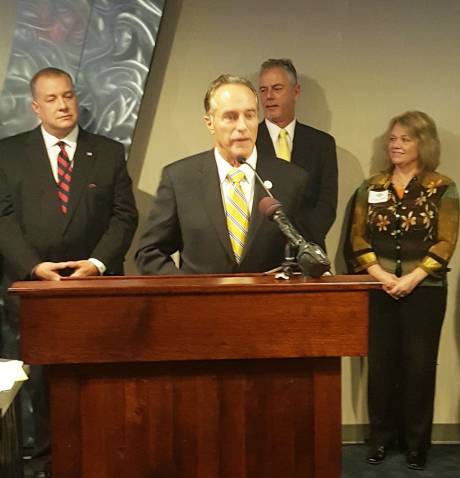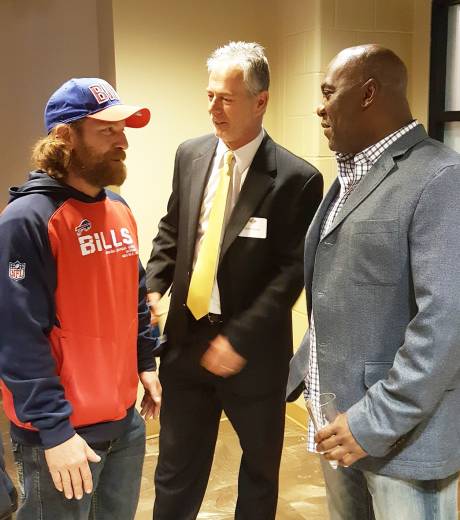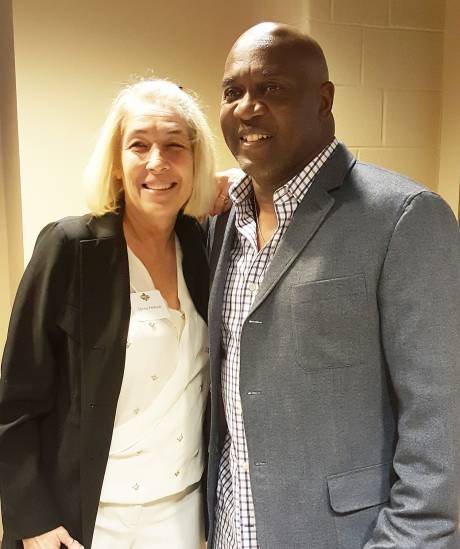 The new, privately owned Hotel at Batavia Downs has "reinvented" the destination landscape in Batavia and Genesee County, the leader of the 84-room, luxury facility's investment group said at a ribbon-cutting ceremony and reception on Wednesday night at Batavia Downs Gaming on Park Road -- and there could be more to come in the near future.
"This is a proud day for Batavia and Western New York. With this hotel, we have reinvented the hotel industry in Batavia," said Anthony Baynes, managing partner for ADK Hospitality, a Buffalo-based development team that purchased land from Western Regional Off-Track Betting Corp. in March 2015 and spent $7.5 million to build what it hopes becomes the county's first AAA four-diamond hotel. 
Baynes went on to thank Michael Kane, former WROTB president and CEO, for his efforts in forging what he called a "unique partnership" between private investors and a public corporation, and Hart Hotels, a highly respected firm that has been hired to manage the hotel.
Buffalo TV personality Laurie Lisowski Frey, WROTB President Henry Wojtaszek, Congressman Chris Collins and Dr. Laszlo Mechtler also spoke briefly to the estimated 400 people at the event before the investors cut the ribbon officially opening the hotel, which was nearly sold out for the evening.
"This is an extremely exciting time for our company, and for our region," Wojtaszek said. "This collaboration takes our organization to a new level and certainly strengthens our brand."
Collins said he was glad to say this was a "bipartisan" gathering.
"We have both Republicans and Democrats here, but when it comes to supporting worthwhile ventures (we're in agreement)," he said. "These entrepreneurs are risking their own capital ... and it's great to see the entrepreneurial spirit serving Genesee County and Batavia.
Rick Likus, hotel general manager, while leading tours for the invited guests, said the Hotel at Batavia Downs is "truly a destination that nobody else in this market can offer."
He said there are 40 rooms with double queen beds and 40 with king beds, as well as four two-room suites on the fourth floor that face the harness horse-racing track. He said extra "perks" for guests include specially made goose down pillows and mattresses, refrigerators and coffeemakers, Belgian chocolates and an early evening "turn-down service" where the rooms are spruced up by housekeeping staff.
Kane, who is acting as advisor to the WROTB board and management, said the hotel became "a priority" after the gaming facility completed its capital project downstairs. He said he is confident the hotel will succeed, thanks in part to the professionalism of Hart Hotels.
"Hart is the single-most capable organization in my opinion," he said. "They manage a five-star hotel in Watkins Glen (actually three four-diamond properties in Watkins Glen, 1000 Islands and Portland, Maine). The hotel here is very well appointed, and one more piece that will drive revenue to our municipalities."
Kane provided some insight into the Downs' future plans, stating that as more property becomes available, a banquet hall big enough to accommodate a couple thousand people could be added.
"That would be beneficial," he said. "In a constantly changing industry, you need to stay ahead (of the curve)."
IT'S OFFICIAL: ADK Hospitality investment partners and Congressman Chris Collins, right, surround Henry Wojtaszek, president of Western Regional Off-Track Betting Corp., during a ribbon-cutting ceremony Wednesday night to mark the opening of the upscale Hotel at Batavia Downs. From left are Jim Basil, John Basil, Anthony Baynes, Wojtaszek, Kent Frey, Dr. Laszlo Mechtler, David McNamara and Collins. 
Other photos -- Congressman Chris Collins, with WROTB executives Scott Kiedrowski​, Michael Nolan and Jacquelyne Leach in background; Thurman Thomas (former Buffalo Bills running back and Batavia Downs spokeman) speaking to Bills fan Jon Detwiler and Nolan, and posing with Connie Penkszyk of Batavia. Photos by Mike Pettinella.