May 5, 2021 - 9:18am
Lang twirls no-hitter as Pembroke wins 12U opener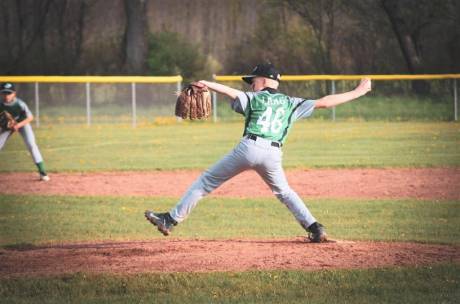 Play ball!
The umpire's call to start the game was a welcome sound Tuesday afternoon as Pembroke went up against Oakfield on opening day of the Pembroke Youth Association 12U baseball season.
And the game turned out to be a thrilling one as Pembroke's Brayden Lang spun a no-hitter with 13 strikeouts in his team's 2-0 victory. Lang outdueled Mason Vigiano, of Oakfield, who also was strong on the mound, compiling 13 strikeouts.
Both runs came in the fourth inning when Leo Lang walked and moved up on a single by Zachary Hartz. Catcher Owen Shultz followed with an RBI single, setting the stage for Lang to drive a double to centerfield to make it 2-0.
Lang retired the next six batters to secure his first no-hitter, prompting a celebration on the mound.
"It was a great feeling for all to be on the field once again after the rough year the boys faced with the cancellation of last season," said Pembroke Coach Dan Lang. "Hats off to players on both teams that battled in the season opener."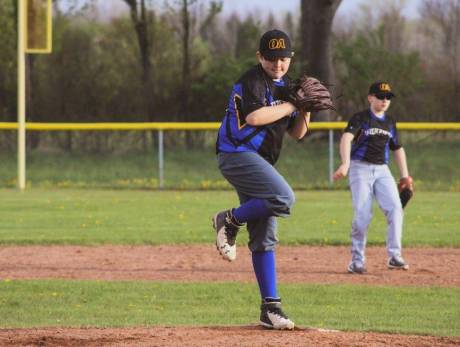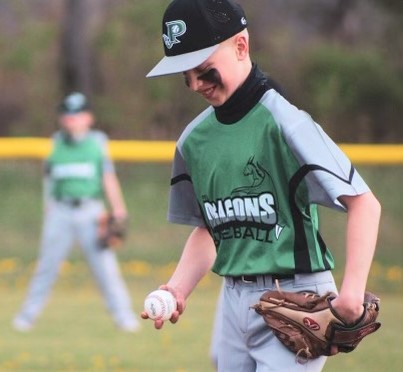 Photo at top: Brayden Lang, of Pembroke, winding up. Photos at bottom: Oakfield's Mason Vigiano; Lang as he closes in on the no-hitter. Submitted photos.