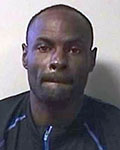 Arthur Brown
Sentencing has been set for 2 p.m. April 3 in Genesee County Court for a repeat violent felony offender who accepted a plea agreement this afternoon with a sentence agreement of no fewer than seven years and a maximum of 10 years.
Arthur J. Brown, 45, of Le Roy, pled guilty to three felony charges, paving the way for County Court Judge Melissa Lightcap Cianfrini to sign off on the prison term parameters agreed to by Assistant District Attorney Joseph Robinson and defense attorney Joseph A. Lobosco of Rochester.
By accepting the plea deal, Brown avoids a lengthy sentence on a charge of second-degree attempted criminal possession of a weapon, a Class D violent offense, in connection with an incident on Clinton Street Road (Route 33) in the Town of Stafford in September 2021.  That incident led to a massive manhunt after a wildlife scare cannon was mistaken for gunshots while Brown was hiding in a cornfield.
The defendant also plead guilty to third-degree attempted criminal possession of a narcotic drug with intent to sell, a Class B felony, in connection with an arrest in January of this year in the City of Batavia, and to one count of violating the Sex Offender Registration Act, a Class E felony, for failing to register as a sex offender upon a change of address.
On Monday of this week, the county DA's office extended a plea agreement of seven to eight years to satisfy the aforementioned offenses and others stemming from the September 2021 incident. It was changed to seven to 10 years today in consideration of a handful of other drug-related charges.
Brown also was informed that he would be forfeiting $2,405 that was seized during an investigation into the intent to sell offenses.
While Lobosco argued for Brown's release upon his own recognizance or into the hands of Genesee Justice while awaiting the sentencing date, Robinson asked the judge to revoke bail in light of the defendant's criminal record.
Lightcap Cianfrini decided to set bail at $30,000 (cash), $60,000 (bond) and $90,000 (partially secured) while placing strict conditions on that action.  She advised Brown that if he was to post bail or cash and that he did not appear at the sentencing hearing or if he violated any of the conditions imposed upon him, then he would lose the sentence cap.
Brown, per the plea deal, waived his right to a trial, his right to an appeal and his right to vote while incarcerated, the judge said.
The judge also outlined the sentences that Brown could have faced if he would have lost at trial – at least seven years in state prison, five years of post-release supervision and up to a $5,000 fine on the weapons charge; 12 years plus three years of post-release supervision and up to a $30,000 fine on the drug possession charge, and 1 1/3 to 4 years and a $5,000 fine on the SORA violation.
Previously: