February 27, 2018 - 5:01pm
Passion, dedication cultivate success at Cornell Cooperative Extension of Genesee County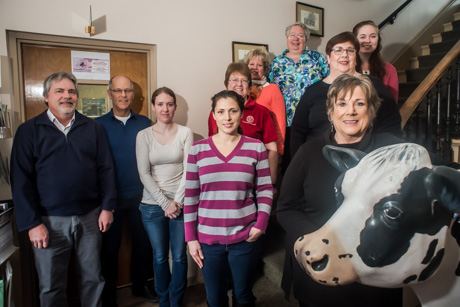 This is the first in a series of five stories about the honorees at this Saturday's annual Chamber of Commerce Awards Ceremony. The ceremony is being held at the Quality Inn & Suites in Batavia.
Quickly deflecting any kudos for herself, Bev Mancuso, executive director of Cornell Cooperative Extension of Genesee County, said it's the staff, volunteers, and community that should be applauded in conjunction with the agency's selection as the Agricultural Business of the Year for 2017 by the Genesee County Chamber of Commerce.
CCE, along with several other businesses, will be honored at the Chamber's Annual Awards Dinner on March 3 at the Quality Inn & Suites in Batavia.
"It's the specialists and experts on the CCE staff who deserve the recognition," said Mancuso, who is retiring from her position in June after 15-plus years at the East Main Street facility. "They're the ones who are out in the field, literally. I do what I can to get them what they need to do their jobs."
Mancuso also had words of praise for those who give of their time to help the agency reach its goal of "growing minds" through nontraditional, experiential learning.
"All of our internal programs are heavily dependent upon volunteers -- 4-H, Leadership Genesee, Master Gardeners. Much fundraising is due to our volunteers. We would be lost without them."
She also spoke highly of the board of directors, also volunteers, who have been instrumental in building and maintaining a strong organization of employees "very passionate about their jobs."
"I continue to be amazed with their (staff) dedication and commitment," she said. "No one is here to just get a paycheck. It really is their calling in life – they live to be here and do this job, despite the funding cuts we've experienced over the past few years."
Mancuso said the agency (there is one CCE in every county in New York State) primarily reaches the farming community – operations big and small – through its involvement with three regional teams – Northwest NY Dairy, Livestock and Fields Crop, Vegetable and Harvest New York.
Currently, 23 specialists from Cornell University interact with all segments of agribusiness, enhancing capacity and infrastructure through on-site farm visits, hours on the muck land, corn and soybean symposiums and newsletter blasts.
Highlights of the work of the three teams include:
-- NWNY Dairy, Livestock, and Field Crops: Several "Congresses" in the area of forage, calf/heifer, corn, soybean/small grains, as well as educational opportunities for growing malting barley, Ag workforce development and dairy calf managed housing and feeding systems.
-- Vegetable: A Batavia Field Day to capitalize on the increase in new farms in this area, soil health alliance summer field day, good ag practices farm food safety and research into wholesaling for small-scale vegetable growers, organic farming management and climate awareness.
-- Harvest New York: With a goal of spurring agricultural economic development, the focus is on dairy food processing and marketing, local food distribution and marketing, and farm strategic planning. Projects have been developed to promote the craft beverage industry, and to link Ag businesses with the WNY Tech Academy and GVEP BOCES culinary program.
The Master Gardeners program, coordinated by Jan Beglinger, has had a profound impact upon Genesee County residents, Mancuso said.
"On many occasions, someone will come in and want to start a farm, but don't know what to do," Mancuso said. "That's when Jan gets involved. When you see those businesses start, that's really cool."
Last year alone, according to a CCE budget report, 71 Master Gardener volunteers donated 4,842 hours, worth $135,867 at current NYS value of $28.06 per hour to Cornell Cooperative Extension of Genesee County.
The CCE of Genesee County was nominated for the award by Christian Yunker, managing partner of CY Farms and a member of the Genesee County Agricultural Committee, said it's easy to overlook the agency's numerous benefits to the area.
"We in the industry many times take it for granted – the work that they do and their teams that provide such high value," he said. "As producers, without that third-party expertise, we'd be left with only our vendors."
Yunker said it was apropos that Chamber honor is being bestowed during the CCE of Genesee County's centennial year.
"We believe that it is well-suited that during their 100th anniversary that they receive this award."