July 8, 2020 - 11:55am
Planning boards to consider Ellicott Place residential/commercial venture special use permits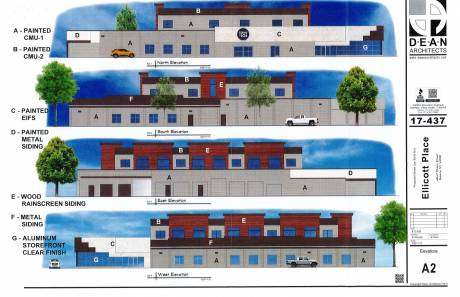 Ellicott Place, a $2.3 million renovation of the Save-A-Lot supermarket building at 45-47 Ellicott St., has reached the local planning board phase – a juncture that sets the stage for the owner of the facility to begin construction this summer.
"Once the special use permits have been approved, which are allowable as part of the BID (Business Improvement District), the final step will be the issuance of building permits," Victor Gautieri, president of V.J. Gautieri Constructors Inc., said today. "From there, we would be looking at a mid-August, possibly late-August start."
The Genesee County Planning Board on Thursday night is expected to issue a recommendation on the company's special use permit site plan and downtown design review application to create 10 apartments on the vacant, 11,600-square-foot second floor of the building.
The board has set its Zoom videoconferencing meeting for 7 o'clock.
V.J. Gautieri's application then goes to the City Planning & Development Committee's meeting on July 21, when it will rule on a special use permit to support a restricted residential use of the structure, which is located within the Central Commercial District.
Restricted residential uses are permitted in the C-3 district with the issuance of a special use permit.
The project is one of several in the City to be partially funded by the state's Downtown Revitalization Initiative. The $1.15 million DRI award covers half of the total cost.
Gautieri said the plan is to construct seven one-bedroom and three two-bedroom market-rate apartments upstairs and further develop 18,000 square feet of first floor commercial/retail space.
Currently, the Save-A-Lot grocery store occupies around half of the ground floor, and future commercial/retail tenants on the first floor are anticipated.
Other improvements include a two-stop interior elevator, two stairwells, new exterior windows, doors, veneers and roof membrane.
"A separate entrance to the west of the Save-A-Lot entrance will be put in (for renters), with a corridor leading to an elevator lobby," said Gautieri, adding that renovations will be made to the west side to make it more attractive for potential commercial enterprises such as a store or offices.
He said he is "hopeful and optimistic" that the apartments will be rented in short order after completion.
"There have been multiple studies concerning the need for downtown housing and all show that there is a definite need," he said. "I see no issues with renting them. They will be of very nice quality with modern codes. We believe there is a good market for downtown living."
Gautieri said that apartment dwellers would be required to obtain parking permits from the City of Batavia for the Court Street lot, something that is allowed in the C-3 district.
Gautieri said his company will be coordinating and doing much of the work, which includes exterior work initially. He noted that V.J. Gautieri will be soliciting bids in an "open and competitive" process for specific trades, including Minority and Women Owned Businesses Enterprises and veteran-owned businesses.
He expects construction to take about eight months to complete.
The building was constructed in 1968 by V.J. Gautieri as a Montgomery Ward store for developer Stanley R. Gumburg of Pittsburgh. In the 1980s, the Batavia firm purchased the building, a move that brought the Super Duper supermarket chain to the city.
It was sold to a partnership in Buffalo before Gautieri bought it again from a mortgage lender while negotiating a lease with Save-A-Lot Food Stores Ltd.
Drawing above shows the north, south, east and west elevations views as depicted by DEAN Architects of Depew.