July 13, 2017 - 8:12pm
Request to add more dogs to Darien kennel prompts heated exchange; planners OK Home Leasing variances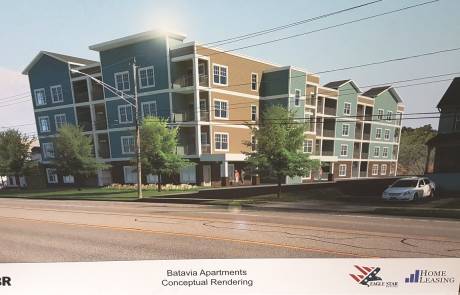 The Genesee County Planning Board on Thursday night recommended disapproval of the expansion of a dog-boarding operation on Route 20 in the Town of Darien, taking into consideration the increased canine population's impact upon neighboring families.
By a 6-2 tally, the panel voted against Randy Blair's request to expand the two-building kennel from eight to 25 dogs. The kennel is located at 265 Broadway Road (Route 20), not far from County Line Road heading toward Alden.
Planning Board member Ed DeJaneiro Jr. said he voted for disapproval "because people's homes take precedence over a business."
The proposal isn't dead, however, as it will have to go before the Darien Town Board and will be subject to a public hearing. Because of the County Planning Board's action, Blair would need a majority plus one favorable vote in Darien for the measure to pass.
Blair told the board that he cleared the expansion with Town of Darien officials, adding that "everything was done above board." Initially, the Planning Board was supportive -- recommending approval as long as the Town of Darien assessed the noise level due to dogs barking.
But that was before the board heard from two neighbors -- Clayton Hoskyns and Timothy Hack -- who said they represented seven families that signed a petition to stop the expansion.
"The main reasons we are against this are the noise ... and the smell," Hoskyns said. "I live between two kennels -- on the east side there is no noise but from his (Blair's) on the west, there is constant barking. Plus the smell because the waste is not disposed of properly."
Hoskyns, a dairy farmer, asked the board, "Who's going to monitor them? Who is going to enforce it when they have more dogs than they are supposed to?"
Hack said his home is about 100 feet from the back portion of the kennel and "the dogs bark for 18 hours and we never see them (the owners) trying to stop them from barking."
Both said that Blair currently is housing more than the eight-dog limit.
The conversation among the neighbors became a bit heated, prompting Planning Board Chair Laraine Caton to implore the speakers to direct their comments to the board.
County Planning Director Felipe Oltramari said he wasn't aware of a maximum number of dogs allowed and that the disposal of animal waste is subject to a management plan. He said the matter will have to go back to the Town of Darien zoning officer.
It was a busy night for the board with more than a dozen referrals on the agenda.
Major rulings were as follows:
-- Planners recommended approval with modifications a special use permit and area variances for Home Leasing LLC, working in cooperation with Eagle Star Housing, to merge three parcels and construct a four-story, 55-unit workforce development residential building at 552-556 E. Main St. in Batavia (on a parcel of land where two homes and Mosman Paint Store currently sit).
Modifications deal with archaeological impacts, driveway permits and meeting Enhanced 9-1-1 standards.
Adam Driscoll, Home Leasing director of development, appeared before the board, expressing his confidence that one dual-purpose elevator (one less than the minimum required) and 48 parking spaces (35 less than the minimum required) would suffice.
Responding to board members' questions about the elevator and parking spaces, Driscoll said that at other Home Leasing projects -- some with up to 100 units -- there is one elevator and "we have never had any major complaints or issues."
As far as parking is concerned, he said his company expects about 35 to 40 percent of tenants to utilize parking spots so 48 would be enough.
"We like to take advantgage of green space -- raised garden beds and a small playground on the site," he said.
Driscoll said 17 of the apartments will be dedicated to homeless veterans (through Eagle Star), with a transportation van being provided to them. 
He said that the timetable -- "in a perfect world" -- has Home Leasing submitting a NYS Homes and Community Renewal application in November, receiving notification of that award in May, closing on the financing in October and breaking ground in November 2018. Construction of the nearly $13 million project would take about a year to 15 months, he said.
-- Planners recommended approval of a site plan review for Thompson Builds of Churchville to construct a 10,331-square-foot salvaged hangar at the Genesee County Airport on West Saile Drive, noting that the plan already has been looked at by the Genesee County highway superintendent for conformance with the County Airport Master Plan.
Contractor Paul Thompson said salvaged structural steel taken from the old hangar will be used in the structure, which will match adjacent buildings on the airfield. His company is building it on behalf of Peter Zeliff, for private and public use.
Thompson expects construction to start in August and be finished by the end of the year.
-- A site plan review for the Ellicott Station project was postponed due to a lack of information from the developer, Savarino Companies.
Photo at top -- Conceptual rendering of the proposed Home Leasing apartment complex on East Main Street in Batavia.