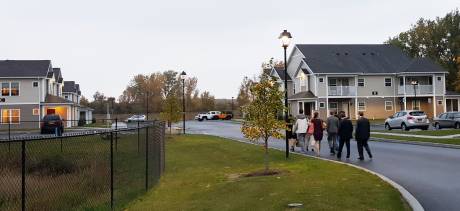 Expansion and improvement projects at the Big Tree Glen apartment complex on West Main Street Road, Koolatron on Commerce Drive and Batavia Sports Park on Bank Street Road received "green lights" to move forward Tuesday night (Oct. 18) from the Town of Batavia Planning Board.
At their meeting at Batavia Town Hall, planners gave their blessing to Conifer Realty LLC after reviewing the Rochester company's site plan for Phase II of the income-based complex at 3727 W. Main Street Road. The site plan approval is contingent upon Conifer meeting all engineering criteria and setting up agreements with the Town of Batavia in line with those already in place from Phase I.
According to Paul Marfione, project director for Conifer, Phase II development will consist of 40 apartments (eight one-bedroom and 32 two-bedroom), which would increase the total number of units to 96.
Occupancy eligibility is based on the median income in Genesee County, Marfione said. Of the 40 new units, 10 would be offered to those at 50 percent of the income level, 15 to those at 60 percent and 15 to those at 90 percent.
"The median income in Genesee is increasing," Marfione said, which enables Conifer to offer 15 apartments to those individuals and/or families with annual earnings closer to the county average ($64,500 for a family of four, for example).
Marfione said Conifer is hoping for New York State approvals within a couple months. An early approval from the state could lead to groundbreaking on the $9 milliion Phase II project in the spring of 2017.
Conifer, in partnership with United Memorial Medical Center, completed Phase I this summer.
Before the meeting, Kathy Jasinski, planning board chairperson, and Conifer executives conducted a tour of the facility (photo above). (Watch for more photos and a story in The Batavian on Wednesday).
Koolatron to construct 25,000-square-foot warehouse
Planners approved a State Environmental Quality Review (SEQR) and site plan for Mega Properties, or Koolatron Corp., to construct a 158-by-158-foot warehouse with loading docks and new driveway at its industrial park north of the NYS Thruway.
They had no issues with the Canadian-based firm's plan that includes area variances concerning the building's distance to the property line and lot coverage since they were both close to the town code requirements.
According to Gordon Pringle, Koolatron manager, said the nearly $1 million project will result in the addition of a few more jobs. Currently, the manufacturing and distribution business employs eight people.
Batavia Sports Park to install second driveway
Parents of the growing number of youth soccer players who compete at Batavia Sports Park on Bank Street Road will be overjoyed to learn that CY Properties (Batavia Turf Farms) plans to put in a second driveway before the start of the 2017 summer season.
"This will be a one-way in, one-way out" setup, said Chuck Hoover, sales manager for Batavia Turf Farms and liaison between the firm and the Batavia Soccer Club. "The traffic flow will be much safer, especially for those coming out of the park."
The new driveway will be situated closer to the intersection of West Saile Drive, near the company's maintenance building. As it stands now, cars are required to come in and exit via a narrow stone driveway across the street from New Hope Ministries.
Town planners approved the SEQR and the site plan, with the latter contingent upon engineering and design approvals by the town. They also are requiring CY Properties to obtain documentation from the State Historic Preservation Office (SHPO) as to the project's impacts on archaeological resources.
Hoover said the town initially partnered with CY Properties in the venture, which currently has 12 soccer fields, by providing funding and other support, but is gradually reducing its involvement.
"That's one of the reasons we're looking to expand (the operation beyond summer soccer)," he said. "We've already hosted lacrosse tournaments and on Nov. 19 we will be hosting a flag football tournament with 20 teams. And we have an opportunity to land a couple of elite soccer tournaments that would have an economic impact of $400,000 to $500,000 over a two-week period."
Hoover said the project also includes adding a few more soccer fields and additional parking. He said the driveways would be blacktopped near the highway.