March 9, 2022 - 10:16am
Volunteer Lawyers Project signs lease for office space in Gautieri building on Ellicott Street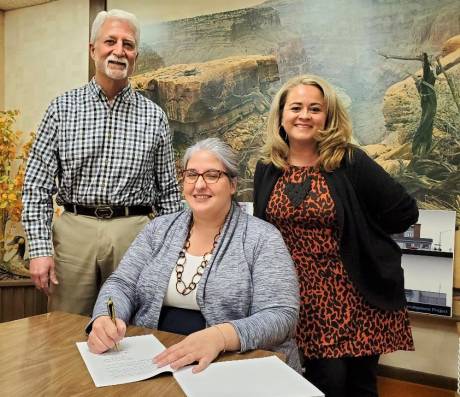 The transformation of the Save-A-Lot grocery store building at 45-47 Liberty St. took another significant step forward on Tuesday when the executive director of the Erie County Bar Association Volunteer Lawyers Project, Inc., signed a long-term lease for 7,630 square feet of commercial office space on the ground floor.
"We've outgrown our space at our current location (in the former Kozak plant on South Lyon Street), so it seemed like a good opportunity to start looking around," said Gretchen Gonzalez, an attorney who directs the Buffalo-based program. "We were looking at some other spots, but it's very difficult to find the size that we needed in Batavia. So, finding this space with Victor (Gautieri) was great and to be able to break it up to what we need."
Gonzalez and Gautieri, president of VJ Gautieri Constructors, building owner and developer, agreed to terms and signed the contract yesterday afternoon at the VJ Gautieri office on Liberty Street.
Gavin McKeirnan Townsend, licensed real estate salesperson with HUNT Real Estate ERA on Jackson Street, also attended.
"Obviously, piggybacking on the beautiful apartments upstairs and knowing that we had about 16,000 square feet available of commercial space downstairs, we definitely wanted to leverage that and keep the momentum going," said Townsend, who brought the two parties together. "It's great to have prime commercial space here in the city of Batavia with sort of the resurgence of everything that's happening in downtown."
Last fall, VJ Gautieri completed a $3.1 million project supported by $1.15 million in New York State Downtown Revitalization Initiative funding that resulted in the City View Residences -- 10 upscale apartments on the second floor of the building -- along with first-floor storefronts and building-wide façade improvements.
With VLP's signing, VJ Gautieri now has about 8,000 square feet of commercial space on the first floor available for leasing.
Gautieri said offices of the Erie County Bar Association Volunteer Lawyers Project, known as VLP, will be located in the southwest portion of the building.
"They're not taking the storefront. They'll be able to walk out there – we're going to create a new entry for them – and look almost directly at Batavia Tailors," he said. "We will be doing the lease build-out – creating the space and dividing it to set up their offices."
He noted that DEAN Architects of Depew, the firm that designed City View Residences, has been hired to configure the space for VLP's 23 offices.
"We did an in-house version of a few things just to get the ball rolling, but the architect is going to play off of that and say, 'Okay, here's what you need,'" Gautieri said. "He's going to also meld all the code requirements in to make sure everything is good. We have to construct the restrooms, entry lobby, reception area and then all the individual offices for the folks who will be working there."
Gonzalez talked about VLP's mission and the importance of a presence in Batavia.
"Our initial office is in Buffalo, and we've had a secondary office in Batavia for a number of years," she said. "We started off with renting space for one office for one attorney – a paralegal that was out here all of the time – and then in 2016, we leased more space there and we now we have around 15 attorneys and five paralegals and two social workers."
She said VLP is a "hybrid legal services organization" that has attorneys on staff plus a bank of nearly 500 lawyers in private practice that volunteer their time and provide expertise at no cost to clients.
"VLP is the largest provider of indigent immigration services outside of New York City in the State of New York," she said. "Our Batavia office houses part of our immigration program. It's funded by a grant from the New York State Office of New Americans to provide a public defender-style representative representation to anyone who's detained (and facing deportation) at the federal detention facility (in Batavia)."
While the immigration piece is key to work in Batavia, it's just a part of what VLP does, Gonzalez noted.
"I always like to say that we do anything under the sun except for criminal law. Because in Buffalo, we have housing attorneys, we have family law attorneys, we do divorces, end of life planning, wills, power of attorney, healthcare proxy," she said.
"We have a low income taxpayer program that helps people who have cases and controversy with the IRS. We have a program that's specifically designed to serve people who are HIV positive. And we have another portion of our immigration program in Buffalo that provides services to people who are not detained and mostly provide services to victims of human trafficking and domestic violence and other sorts of crimes."
Gonzalez, who has been with VLP for 10 years, said about 20 full-time employees will be working out of the new Batavia office, and will be supported by attorneys at other locations who volunteer their time.
Gautieri said he is keeping another 1,000 square feet in reserve just in case VLP needs to expand in the future. He said the anticipated move-in date for VLP is Aug. 1.
CLICK HERE for more information about the Erie County Bar Association Volunteer Lawyers Project, Inc.
Photo at top: Gretchen Gonzalez, center, signs a contract to lease more than 7,500 square feet of office space at 45-47 Ellicott St., site of Save-A-Lot and the City View Residences, as Victor Gautieri, president of VJ Constructors, and Gavin McKeirnan Townsend of HUNT Real Estate ERA, look on. Photo by Mike Pettinella.
Previously: Ribbon cutting marks completion of City View Residences revitalization project in downtown Batavia