March 2, 2022 - 2:16pm
WROTB directors approve sewer pipe replacement; Park Road project expected to start in couple weeks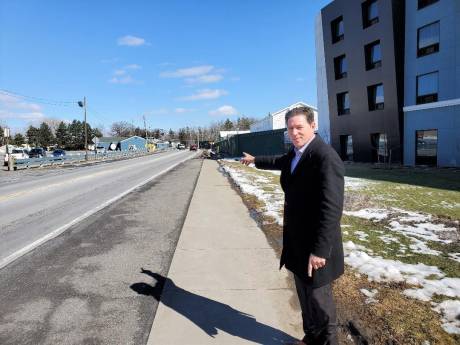 Directors of Western Regional Off-Track Betting Corp. have approved spending up to $190,212 to install a new sewer pipe extending from the Genesee Park Place apartments to an area in front of the Hotel at Batavia Downs on Park Road.
The board, at its meeting last week, approved a resolution to accept a proposal by Town of Batavia officials to put in the pipe as part of the Park Road Reconstruction Project that is set to get underway this month.
"We believe the sewer pipe project will cost around $260,000 and we've made a request to owners of the Park Place apartments to split the cost," WROTB President Henry Wojtaszek said today. "The board agreed to a maximum of $190,000 to take into account any overruns or contingencies, and in case we have to do it on our own."
Wojtaszek said putting in the sewer line will eliminate the need to use an old pump station just south of Alex's Place and will result in lower costs to the corporation.
Town Engineer Steve Mountain agreed, adding that it would be more efficient if that work is done as part of the major renovation of the road.
"We posed that to them if they wanted to consider it now rather than later," Mountain said. "Now's the time -- before the road is built."
WROTB previously agreed to spend about $450,000 in enhancements to the $4.077 million project -- improvements such as trees, street lights, increasing the size of the sidewalks and replacing the fence along the parking lots.
Mountain said the main water pipe is being delivered today or tomorrow and work will start in a couple weeks. Catco (Concrete Applied Technologies Corp.) Construction of Alden is general contractor for the project, which is expected to take several months, possibly until the end of the year.
"I guess you could say this is the calm before the storm," Mountain said. "Everything will get started when the weather starts breaking."
He noted that there will be lane shutdowns during construction but traffic will be maintained.
"There'll be times when it'll be stop and go for sure," he advised.
The project calls for the installation of new pavement, curbs and curbing from Lewiston Road to Richmond Avenue with sidewalks on both sides of Park Road; overlaying of pavement and installation of sidewalks on one side of the road from Richmond Avenue to Route 98, and installation of new water lines and street lights on Park Road between Route 63 and Richmond Avenue.
Photo: WROTB President Henry Wojtaszek points north on Park Road, where a new sewer line running from Genesee Park Place apartments to Batavia Downs Gaming will be installed as part of the Park Road Reconstruction Project. Photo by Mike Pettinella.