December 15, 2016 - 11:51am
WROTB leaders await signing of bill that would 'level the playing field'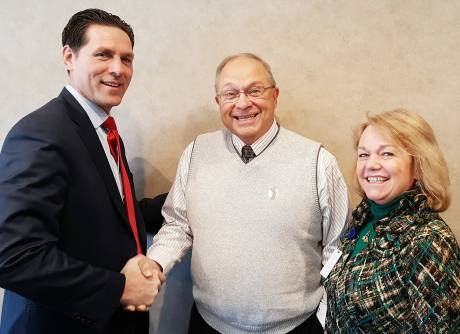 Henry Wojtaszek, president of Western Regional Off-Track Betting Corp., is hoping for a Christmas present in the form of the governor's signature on a bill that would "level the playing field" when it comes to the amount of revenue that Batavia Downs Gaming would be able to retain.
Currently, Batavia Downs Gaming gets to keep 35 percent of the net proceeds. If the bill -- which has passed through both houses of the State Legislature -- is signed into law by Gov. Andrew Cuomo, that figure would rise to 41 percent. A 6-percent increase translates to roughly $3 million in additional earnings.
"We're at a disadvantage now," Wojtaszek said following Thursday morning's board of directors meeting. "Other casinos in WNY -- Buffalo Raceway, Finger Lakes and the Senecas -- are at 41 percent, and more in some cases."
Wojtaszek said it's a matter of "being fair and competitive, and enabling us to retain and create jobs."
"The passage of this bill would definitely level the playing field," he said.
He said the bill is on the governor's desk.
In consideration of the ever-increasing competition, WROTB officials are anticipating operational earnings of $2,628,000 for 2017 -- down from the $3.3 million that was projected for 2016. The 2017 figure is based on a net revenue projection of $3,817,000 minus a $1,189,000 surcharge paid to municipalities.
"The corporation feels the opening of del Lago (in Seneca County) on February 1st will have some impact; of course, there will be a honeymoon period," said Comptroller Jacquelyne Leach. "But our advertising and marketing department is stepping up efforts to offset this."
Leach said her net revenue projection of $3.8 million is based on overall revenues of $76.3 million minus payments to all state entities and operational expenses totaling $72.5 million.
In another development, WROTB directors extended farewell wishes to Fred Hamilton, of Batavia, who is retiring on Dec. 31 after nearly 11 years as the corporation's food services director.
"When we hired Fred, immediately the quality, service and product went skyward," said Michael Kane, former WROTB president and current consultant to the board. "He treats every customer like it's his brother. We'll all miss you. You've done a wonderful job for this corporation."
Hamilton said he is "going to miss a lot of people" and thanked all the "great people" who work at Batavia Downs, but said that "the timing is right" for retirement. He has been in the food service business for nearly 50 years.
Photo -- Fred Hamilton, center, is congratulated by Henry Wojtaszek and Jacquelyne Leach at today's WROTB board meeting. Hamilton, the Downs' food services director, is retiring at the end of the year. Photo by Mike Pettinella.