May 13, 2019 - 11:40pm
Yearly awards go to Suttell, Neths, Crossroads House, The Batavian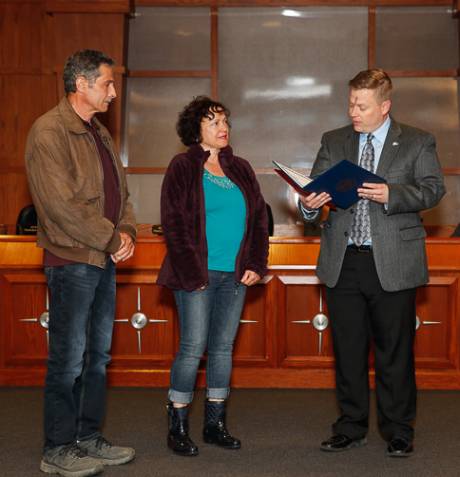 Ann Marie Suttell, Maney and Donna Neth, Crossroads House and The Batavian were in the spotlight tonight as Batavia City Council presented four yearly awards at the outset of its Business Meeting at City Centre Council Chambers.
Suttell was honored as the Volunteer of the Year for her "dedication, commitment, and outstanding effort" as a member of the St. Joseph's School Board of Directors, where she chairs the budget and finance committees, and as the president of the Michael Napoleon Memorial Foundation since the organization's inception in 2007.
She, as well as representatives of the other honorees, accepted a plaque from City Council.
"This is for excellence in volunteerism … you're a true example of going above and beyond," said Council Member Kathy Briggs, reading from the proclamation.
The Neths were recognized as Homeowner of the Year for displaying "community spirit and community pride" while refurbishing and impeccably maintaining their home on Osterhout Avenue.
Council Member Adam Tabelski spoke of how they share baked goods and produce with their neighbors, while always "welcoming others and reaching out to help."
Crossroads House was established 21 years ago as a comfort care home for the dying and has provided services to 485 residents since – all at no charge to the families. It was recognized as the Not-for-Profit of the Year.
"(Founder) Kathy Panepento had an idea and she followed through with it," Council Member Robert Bialkowski said. "And they have done it with no government funding or subsidies … they do it all on their own. The City is proud to acknowledge Crossroads House."
Director Jeff Allen, board members Jo Anne Patri and Jackie Swinarski and volunteers Jim Gardner, Trudy Miller and Emily Crawford accepted the award.
The Batavian, owned by Howard and Billie Owens, was honored as Business of the Year for its dedication to covering community news and events in an accurate, professional and timely fashion. The couple started the online news outlet 10 years ago and has worked tirelessly to expand its reach in the community.
The Owens, along with graphic designer Lisa Ace, contributing writer Mike Pettinella and photographer Jim Burns were on hand during the presentation by Council Member Patti Pacino.
In a separate presentation, City Police commended Aubrey Towner, a member of the department's Explorer Post, for her "quick thinking and decisive action" in assisting a 3-year-old child and the child's father following a car-pedestrian accident in Rochester on April 18.
Towner, a Batavia High School student, came to the aid of the youth and then the father while making sure first responders were on their way.
"Aubrey is a model Explorer, one who exemplifies our program," Det. Matthew Wojtaszczyk said. "She's our star."
Photos by Jim Burns.
Top photo: Councilmember Adam Tabelski presents the award to Maney and Donna Neth.
Ann Marie Suttell receives her award from Council Member Kathy Briggs.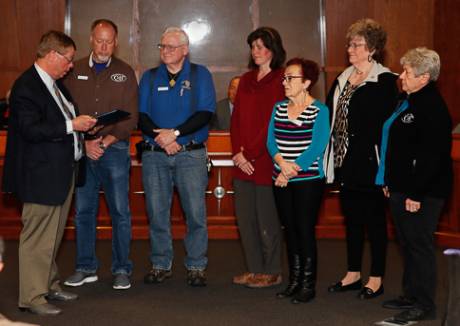 Council Member Bob Bialkowski presenting the award to the Crossroads House. Jeff Allen, director, left; Jim Gardner, volunteer; Emily Crawford, volunteer; Trudy Miller, volunteer; Jo Anne Patri, board member/volunteer; Jackie Swinarski, board member/volunteer.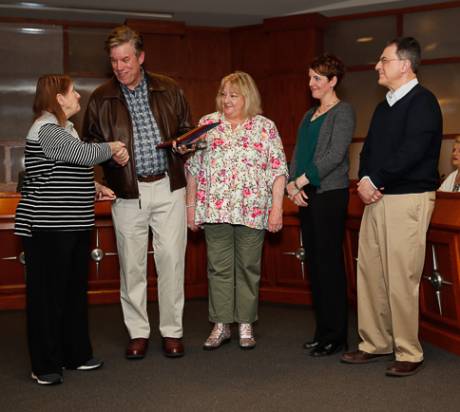 Council Member Patti Pacino presents the award to The Batavian. Howard Owens, publisher, left, Billie Owens, editor, Lisa Ace, ad coordinator, and writer Mike Pettinella.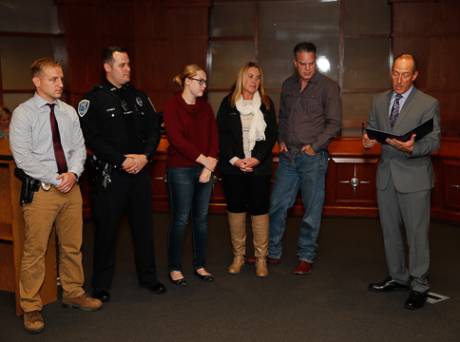 Det. Matthew Wojtaszczyk, Officer Mark Lawrence, Aubrey Towner, Rita Towner, Darren Towner, and Council President Eugene Jankowski.