Image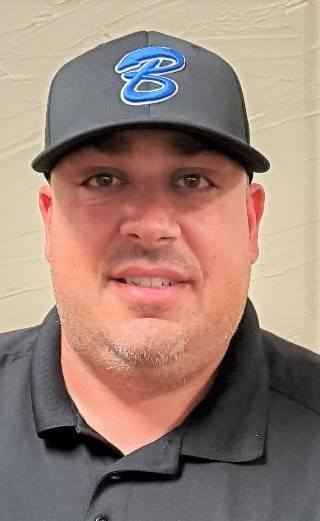 Mike Sputore fell in love with the game of baseball when he was a young boy growing up on the southside of Batavia.
He excelled at the sport, starting as a member of the Ramblers, who were coached by his father, Paul, in the Batavia Minor League on the diamond at the corner of State and Denio Streets and continuing through two seasons as a pitcher and third baseman for the Genesee Community College Cougars.
Sputore's baseball career didn't end then, however. In a sense, it was just beginning. For the past 20 years, he has been a coach at various levels – including the past two years as the varsity head coach at Pembroke Central School.
This summer, when he heard that James Patric was stepping away from the job after two years at the helm, Sputore submitted his resume to Mike Bromley, director of Health, Physical Education and Athletics for the Batavia City School District.
"In 2022, James had reached out to me about coaching the jayvee team at Batavia, but I was committed to Pembroke at that time," said Sputore during an interview with The Batavian on Monday at Mancuso Bowling Center, where he is employed as the general manager. "When the position did come available, I applied and was interviewed by Mike and (physical education staff members) Brennan Briggs and Nick Burk."
Apparently, Sputore, a 1999 BHS graduate, aced the interview and was offered the job.
"We had several applicants and Mike came through as the leading candidate," Bromley said. "He had some great experiences as a coach at Notre Dame and the last couple years at Pembroke as the varsity coach. We know that he has a love for Batavia baseball, with his family deeply involved in baseball here for a long time.
"We think that he has some of the attributes that it would take to be the next varsity coach here in Batavia – a good work ethic, great with kids and loves baseball. Just a good fit."
Sputore credits his dad, who was president of Batavia Minor League for many years, for introducing him to the sport.
"He was a big influence when I was young and now, I'm enjoying it more and more the older I get," Sputore said. "It's very satisfying to help others in reaching their goals."
After progressing through the summer youth baseball programs in the city – Minor, Little and Junior-Senior leagues, Sputore was a three-year starter at Batavia High under coaches Pep Johnson and Rick Saunders – claiming a Section 5 title in 1998 and earning Monroe County Honorable Mention status as a pitcher and third baseman.
Interestingly, Sputore's brother, Chris, also won a Section 5 championship as a Blue Devil in 1994.
Mike Sputore played American Legion ball, before enrolling at GCC. It was there that he started his coaching career, serving as an assistant in 2003.
From there, he joined the Notre Dame High baseball program, recruited by varsity coach Rick Mancuso to run the jayvee program. In 2006, he became the varsity assistant coach under Mike Rapone and stayed in that capacity for 11 more years.
From 2018 until last season, Sputore coached at Pembroke – helping to build its program while coaching at the modified and varsity levels.
"We were very young (at Pembroke), but we made progress," Sputore said, noting that the team won five games over the past two seasons after not winning any the previous couple years. "Going to Batavia, I feel the program has been set up for success, thanks to James, and we hope to continue the tradition built by Pep and Rick."
Sputore said his expectations for his players start with two words – hustle and effort.
"It takes zero talent to hustle and give your best effort at all times," he said. "We're looking for kids to be coachable and to be motivated to succeed."
He said he hopes to get his players on the field for some practice in October and is planning some "winter workouts" with the drop-down batting cage at the high school's auxiliary gym. He also is excited about the "Meet the Coach Night" on Sept. 12 at the high school for all of the program's players and parents.
Ryan Mansell, a five-year ballplayer at Brockport State, has accepted a health teacher position at BCSD and has been hired as the baseball program assistant. Other coaches are Derrick Busch (junior varsity), Greg Mruczek (modified A) and Rich Wagner (modified B).
Sputore has a son, Benjamin, a senior at BHS, and a daughter, Brooklyn, an eighth grader at Oakfield-Alabama Central School. His wife, Jillion, is a teacher at John Kennedy Intermediate School.