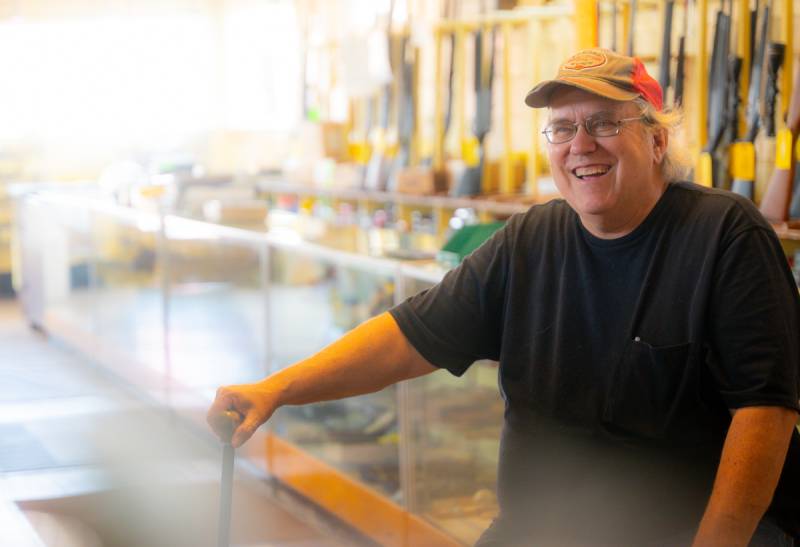 Please read: After 68 years we are winding down. Our hours will be by appointment only. Please call (585) 343-4131 and leave a message. A big "thank you" from the Barrett family for your patronage. Remember to vote and carry on the good fight.
With that handwritten message on a large piece of orange paper taped to the front door, Mike Barrett, owner of Batavia Marine & Sporting Supply, let the world know that he's ready to begin a new phase of a retail sales career that began more than a half-century ago.
"It's been good while it lasted, but you have to leave your heart and soul here," said Barrett, 71, in a sit-down interview with The Batavian on Monday afternoon at his store at 413 West Main St. "I've been blessed with a mother (the late Mary) and wife (Donna) who have been very understanding over all these years."
Founded by brothers Dave (Mike's father) and Charlie in 1955, Batavia Marine was well-known as a hunting and fishing store that eventually ventured into sales of outboard motors, snowblowers, snowmobiles and camping equipment. One of Batavia's longest-running businesses, it also featured a huge selection of trapping supplies.
Image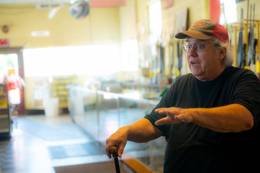 Mike Barrett went to work on a part-time basis while attending high school at Notre Dame before taking a full-time position in 1972. While he manned the store, his brother, Paul, focused on outboards.
"Actually, my grandparents at one time owned all of the land from here right over to Sport of Kings," said Barrett, who recently returned from a trip to the Adirondacks with his wife, a longtime employee of the Genesee County District Attorney's office who now works part-time at the Department of Motor Vehicles and County Clerk's offices. "My dad also owned another Batavia business, Colt Clamp, which was started in the late 1800s."
Barrett, who is recovering from a mini-stroke earlier this month, said, "The arrow has been pointing at retirement."
"My health is not the best. I guess that pounding the floor for 50-plus years got to me," he said. "Besides that, hunting and fishing have declined. It's difficult to get stuff. It seems like everything is geared toward the mass merchandisers now."
Although he has decided to accommodate customers strictly by appointment, Barrett said he's not moving away from Batavia, and he's not selling the building.
"I'm not going anywhere," he said. "There really is no definitive timetable (on liquidating the inventory)."
Barrett estimates that he has sold around 24,000 guns (rifles, pistols, shotguns, etc.) but admitted that sales have declined significantly in recent years.
Image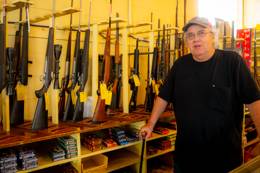 "The kids don't hunt and fish anymore, and the new gun laws have people scared to bring their guns out of the house," he offered. "They've passed some stupid restrictions that really didn't stop any crime."
Batavia City Council member Rick Richmond, who worked at Batavia Marine for three years, including during COVID, said Barrett has served the city, county and region with the utmost integrity.
"Mike is one of the most honest people I've ever worked for," he said. "I want to put this into perspective. I remember one time that he placed a fishing order. When the hooks came in – they come in a box of 12 – I recall him getting on the phone and calling up the distributor and saying, "Hey, I got my hooks. But one of the boxes had 13 hooks. Please send me the bill.
"He wanted a bill for a package of hooks that would sell for a dollar, sixty-nine!"
For his part, Barrett said he is fortunate to have married the former Donna Stearns, who grew up in Stafford, in 1986.
Image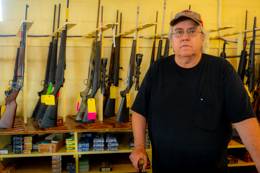 "She didn't know what she was getting involved with," he said with a chuckle.
Barrett said his "bucket list" doesn't include any cruises or flights to Europe, just a couple of items – visiting a close friend in the Southern Tier and his sister, Emily, in New Jersey. His other sister, Liz, lives in Rochester.
Looking ahead, he said that "Hopefully, the Good Lord will let me live out a long retirement."
"Most of all, I want to thank all the customers, especially the regulars (who made Batavia Marine & Sporting Supply a daily destination). I'm going to really miss them."