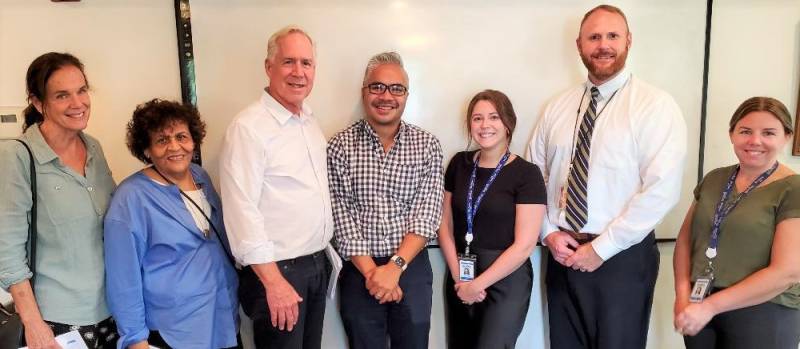 A wide-ranging, cooperative effort is being made at the grassroots level to "HEAL" those afflicted by opioid use disorder and to prevent opioid overdose deaths.
Professionals in the substance use treatment/prevention and mental health fields in Genesee County have been working in conjunction with a research team from Columbia University over the past year to develop and implement evidence-based strategies as part of the HEALing Communities Study.
HEALing refers to Helping to End Addiction Long-term and is the catchphrase of a program launched by the National Institutes of Health and the Substance Abuse and Mental Health Services Administration. The goal is to identify evidence-based programs that are most effective at the local level in preventing and treating opioid use disorder – with a target of reducing opioid-related overdose deaths by 40 percent.
HEALing Genesee is part of the second phase of the HCS, which will run through the spring of 2024. Other counties in this phase include Broome, Chautauqua, Cortland, Monroe, Orange, Sullivan and Yates.
Members of the Columbia University research team, along with officials from the NIH's Institute on Drug Abuse, came to Batavia last week to meet with the Genesee County Health Department and Genesee/Orleans Council on Alcoholism and Substance Abuse personnel who have been serving on the county's implementation team.
"Drug overdose requires a comprehensive approach to first define the breadth of the problem and then to promote harm reduction and evidence-based treatments known to be effective with opioid use disorder," said Timothy Hunt, PhD, of the Columbia U. School of Social Work, who is the HEALing Communities Study Intervention and Community Engagement Investigative Lead.
"The partnership for the HEALing Communities Study between the Genesee Department of Health and organizations like Genesee/Orleans Council on Alcoholism and Substance Abuse illustrates a community coming together, even when challenged by the COVID pandemic, to focus on this highly stigmatized public health crisis."
Hunt applauded the Genesee group for its "commitment to capturing up-to-date data on fatal and non-fatal overdoses thus allowing the community to plan and focus strategies to populations and locations at high risk."
HEALing Genesee leaders have identified several strategies to reach its goal, including various ways of getting naloxone (brand name Narcan) into as many hands as possible. Naloxone is a medication used to reverse an opioid overdose.
Initiatives include distribution of leave-behind kits by the Batavia City Fire Department, establishing a text-for-naloxone hotline (text KIT to 1-877-535-2461) and placing NaloxBoxes at businesses.
Columbia U. Professor Nabila El-Bassel, HCS principal investigator, said she was impressed with the amount of collaboration in Genesee County.
"The Columbia University team and our funder from the National Institute on Drug Abuse who visited Genesee HCS coalition extend our gratitude for their unwavering commitment to addressing the overdose crisis with a data-driven solutions and improving access to treatment and care for those in need in Genesee," she said.
"Today, we witnessed the innovation in delivering drug treatment and services with high integrity and responsiveness to community needs.  The success of the Genesee-Orleans-Wyoming Opioid Task Force and HEALing Communities Study is also a testament to the extraordinary power of collaboration that exists."
Staff from more than a dozen local agencies have collaborated with HEALing Genesee, including professionals from Genesee County Mental Health, Genesee County Department of Social Services, Genesee Justice, VA Medical Center, City of Batavia Fire Department, GCASA, Horizon Health Services, Rochester Regional Health (United Memorial Medical Center, Hope Haven Center and Batavia Primary Care), Oakfield Family Pharmacy, Oak Orchard Health and Lake Plains Community Care Network.
The National Survey on Drug Use and Health estimates that 2.1 million Americans have opioid use disorder, yet fewer than 20 percent of those receive specialty care in a given year. New York State has one of the highest rates of opioid overdose deaths in the nation, with Genesee County having one of the highest rates of opioid overdose deaths in New York State.
The county's opioid overdose death rate peaked at more than 36 deaths per 100,000 in 2017 and was still around 22 deaths per 100,000 in 2022. As a result, Genesee was selected as a HEALing Communities location.
Hunt concluded that HEALing Genesee, by virtue of its evidence-based strategies and robust communication campaigns, and with support from agencies such as GCASA, is on the right track.
"Our HCS partner, GCASA, provides needed care along a continuum of readiness, and is a rare accommodation to needed levels of care which include harm reduction, detox, rehabilitation and outpatient care, including much-needed access to methadone and Buprenorphine," he stated. 
To learn more about the HEALing Communities Study and to help end overdoses in Genesee County, visit:
-- HEALing Communities Study Website: HealTogetherNY.org/Genesee
-- GOW Opioid Taskforce Website: www.gowopioidtaskforce.org
-- GO Health Facebook: www.facebook.com/GOHealthNY
Disclosure: Mike Pettinella is the publicist for GCASA.