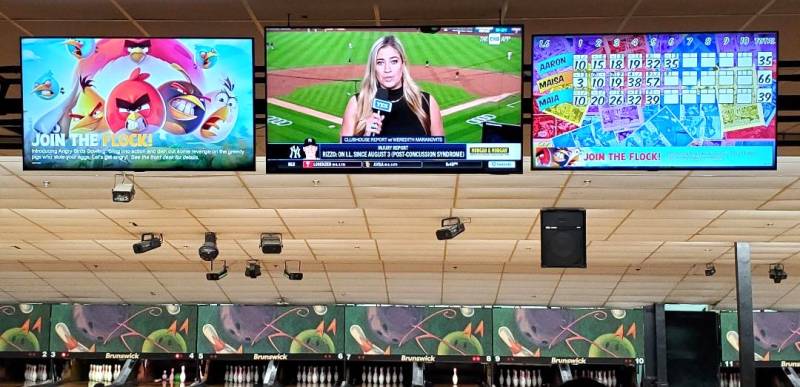 Mancuso Bowling Center has elevated its game with the installation of the Brunswick Sync scoring and management system.
Tuesday Night Coed bowlers were the first league bowlers to experience the state-of-the-art platform last night – a system that features 50-inch, full color upper monitors and interactive, touchscreen lower monitors along with six 55-inch color televisions strategically placed across the 24 lanes.
Two more big screen TVs have been placed behind the service bar and the customer service desk.
"It's nicely lit and easy to read," said Rebecca Bates, a league bowler for the past three years. "So, we'll see if it keeps score good."
General Manager Mike Sputore reported no scoring problems on opening night of what is an eight-month fall-winter league season.
"Sync is Brunswick's latest model of automatic scoring, and it controls food and beverage (point of sale ordering) as well as far as restaurant capabilities," Sputore said. "And there are a bunch of different (bowling) games – not just standard bowling."
Sputore said the lower monitors are "very user friendly" and the upper monitors are loaded with numerous colorful and high-tech graphics. Casual bowlers can even upload their photo onto the upper monitor when playing a specialty game known as Angry Birds.
Other games (some are 10 frames and some are five frames) include Creature Feature, EZ Bowl, HORSE, Ka Pow!, My Shot, Pin Pals, PinPix, Rival Rumble and 3-6-9 Free Strike. 
"It has so many different features, including the Open Lane app, where bowlers' scores can be downloaded and then sent to their email," Sputore noted.
The scoring upgrade replaces the Brunswick Frameworx system that had been in place for the past 25 years or so.
"(Proprietor) Rick (Mancuso) did a good job of research and getting the right stuff that works – and it looks beautiful," Sputore said. "It's quite a substantial investment."
Sputore said that Sync interfaces with league secretarial software and handles a multitude of back office tasks.
The Sync system also reads the down-lane speed of the bowling ball and posts that number on the upper monitor after the bowler's delivery.
"Yeah, it does the ball detect; average first ball speed," he said. "It's very convenient for league and tournament bowlers. Now, if you make a bad shot and you see that you threw it three miles an hour slower than your last one, that's probably the reason."