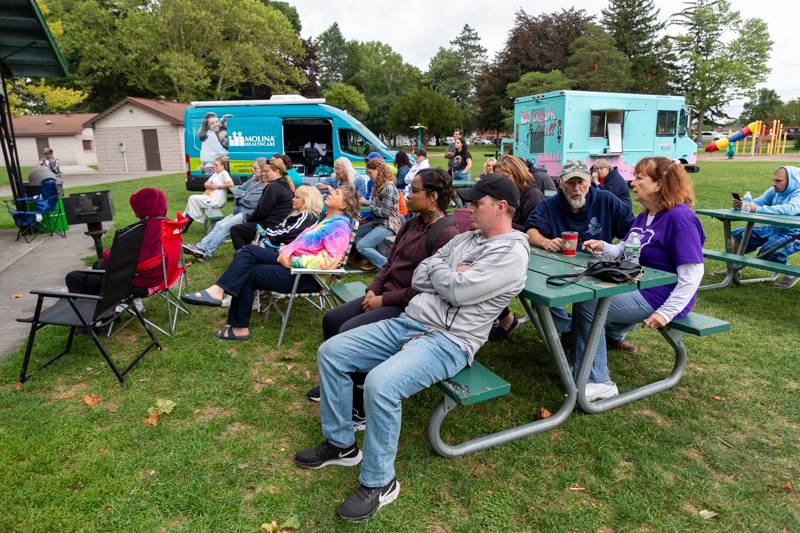 Image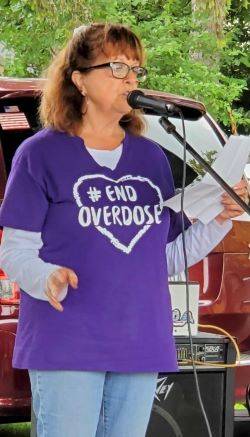 Cheryl Netter and Scott Davis are two of the fortunate ones. They are people who have survived the grip of addiction and have emerged on the other side, now devoting their lives to helping others who are struggling with substance use disorder.
So many others didn't make it. More than 100,000 in the United States over the past year alone – and nearly 80 Genesee and Orleans County residents who died of a drug overdose over the past four years.
Netter (photo at left) and Davis briefly shared their stories of anguish successful recovery on Wednesday afternoon at the annual Overdose Awareness Day at Austin Park.
The event, organized to raise awareness of the dangers of opioids and to remember those who have succumbed to an overdose, was coordinated by the Genesee-Orleans-Wyoming Opioid Task Force, in conjunction with the National Institute of Health's HEAL (Helping to End Addiction Long-Term) Initiative.
Recognized as a community "hope coach," Netter said she is "an overdose and suicide attempt survivor."
"Leading up to my (suicide) attempt, much of my struggle and pain I chose not to allow people to see. I spent my younger years masking my way through life, not recognizing or even acknowledging my inner struggles," she said. "This led me to dabbling with mental health issues, risky behavior, substance use and trying to (commit) suicide. I stand with you today only by the grace of God, and with many years of recovery and I'm able to tell my story in my own voice."
She quickly shifted her focus off of herself to speak about those who are no longer with us because of drugs.
"We're here and I want to remember and acknowledge those individuals gathered here today, along with their families and friends. Those who aren't able to tell their story with their own voice due to …losing the struggle of addiction and to talk about the crisis we're all facing right now."
Netter encouraged family members and friends to keep the stories of those departed alive.
"We're sowing seeds of hope and healing, not only in the hearts and lives of others, but also in our own hearts and our own life," she said. "Strength and recovery can be found by giving a voice to the stories of those who may otherwise go unseen and unheard."
Image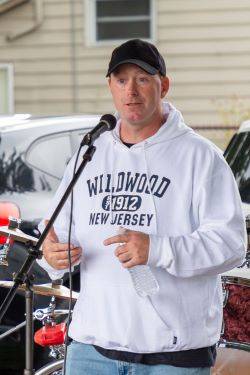 Davis (photo at right) has been a certified peer recovery advocate for the Rochester Regional Health system for the past two years – a far cry from where he was for most of his adult life while addicted to heroin and fentanyl.
He shared that when his mother died in 2008, his life spiraled out of control, and the result was incarceration, institutions and near death. Eventually, and with the help of medication for opioid use disorder and support from family and friends, Davis pulled himself up, and continues in his recovery.
Two years ago, his brother died from an overdose, a searing pain that he said he is "working through."
"Every day, there is something that reminds me of him," he said. "He's always there with me."
Other speakers included John Bennett, chief executive officer at Genesee/Orleans Council on Alcoholism and Substance Abuse; Paul Pettit, public health director for Genesee and Orleans County Health Departments, and Dawn Stone, peer advocate at Spectrum Health in Wyoming County.
John Bennett: We're Working to Save Lives
Image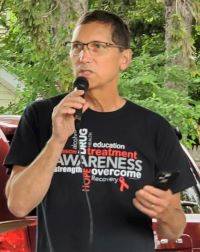 "You would think that in the year 2023, with all of the people who have come out publicly – all the movie stars and athletes that have come out and talked about their addiction – that the stigma would reduce? But it hasn't. It's still there," Bennett said. "So, I just want to thank all the people here today who are recovery warriors. It's the work that you guys do every day. The support agencies like GCASA, to support the people in the community, that really make a big difference."
He mentioned how the agency has grown in recent years from 65 to almost 200 employees and adding needed services such as housing for various groups, childcare, transportation and The Recovery Station social meeting place on Clinton Street Road.
"We also provide services for the homeless, particularly through a homeless housing grant that we recently got," he said. "We're going to be working on coming up with transitional housing crisis beds for these folks, where they will have a place to stay for seven to 15 days. Those are hard to find, but we're working to make those come true."
Bennett said recovery workers are making a difference by trying to save lives.
"My heart goes out to all of you who have lost a loved one. I can't imagine the grief and loss. But know that we're trying to make a difference behind the scenes to help future loss of life," he said.
Paul Pettit: An 'Urgent Public Health Threat'
Image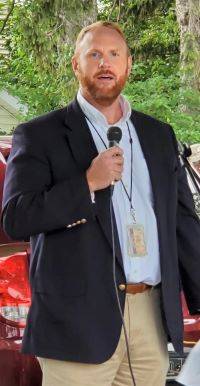 Pettit said that data shows that the opioid epidemic continues to be a "very urgent public health and public safety threat in our communities."
"Drug overdose deaths continue to be the number one leading cause of injury mortality in the United States," he said. "It's been that way for many years now. And unfortunately, it's probably going to continue to be the number one cause of death. It's more than vehicle accidents and other types of injuries."
More than 100,000 people died by overdose last year in the U.S., he said, adding that since 2019, there have been 56 overdose deaths in Genesee County and 23 overdose deaths in Orleans County.
"That's 79 individuals that have lost their lives to overdoses that we could have prevented; that we are working to prevent it. And that's why we're here today -- to bring awareness to that and to honor them," he said.
Pettit credited the GOW Opioid Task Force, a three-county coalition founded in 2017, and the more recent HEALing Genesee initiative for examples of community human services agencies coming together to fight this epidemic. 
"Three areas that we continue to focus on in the community is opioid overdose prevention and education and naloxone (Narcan) distribution … medication for opioid use disorder and linking individuals to treatment, and safer opioid prescribing and dispensing.
Dawn Stone: 'It Takes a Community'
Image
Noting that she provides support and encouragement for people from the age of 5 to 90, Stone said "it takes a community" to combat the increasing mental health and substance use epidemic.
In recovery for 19 years, she said that 21 people have died due to an overdose in Wyoming County in recent years, with 41 being the average age of those individuals.
"It's not just young people," she said. "Substance use affects all ages. We need to ask our elders, 'Are you OK?' and offer them the help they need."
To conclude the program, Brandi Smith of Batavia, who has been in recovery from heroin, fentanyl and cocaine for six years, read a poem, No Hero in Heroin, in memory of her brother, Jason, who died of an overdose.
In part, the poem states, "So alone, so filled with fear, but I kept on swimming, well, drowning in tears; I never gave up, finally said my goodbyes, found beauty in life, without you by my side; You're part of my past now, no longer a friend, despite you name, there's no HERO in heroin."
Disclosure: Mike Pettinella is the publicist for GCASA.
Photos by Steven Ognibene.