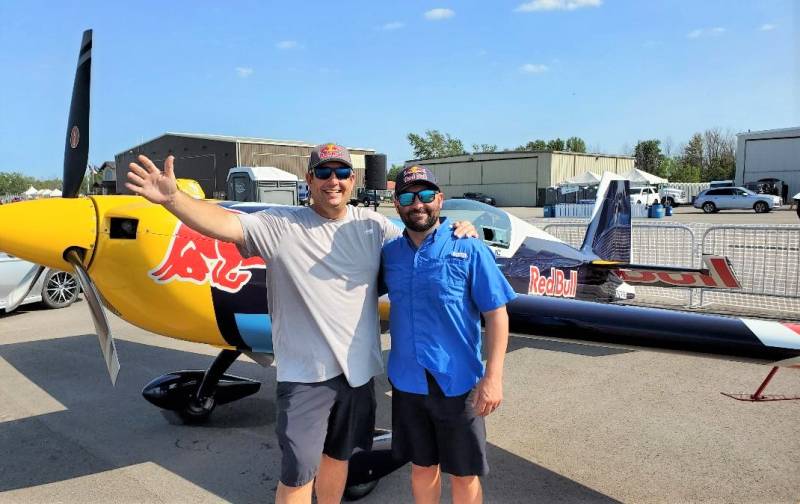 Kevin Coleman is living the dream.
"I'm 33 years old and I started flying air shows when I was 18. So, I grew up in an air show family and my dad flew air shows. Ever since I was 3 years old, this is all I've ever wanted to do," the Coushatta, La. resident said this afternoon while getting ready for this weekend's Wings Over Batavia Air Show.
Coleman and skydiver Luke Aikins comprise the Red Bull "Airforce" team that wows audiences all over the world. The event at the Genesee County Airport is their 16th show this year.
Their airplane is an Extra EA-300, a 1,200-pound, 400-horsepower machine that was built specially for aerobatics, Coleman said.
"Basically, it was built to do all the cool stunts or tricks, whatever you want to call it," he added. "So, it's not comfortable; it's not a good traveling airplane. It's built for one purpose and that's to fly air shows and do all the cool stunts."
Sponsored by Red Bull, Coleman said he's been flying this plane since 2010.
"I own the airplane, while Red Bull is our partner that makes the deal go around," he said.
Aikins, 49, of Seattle, said he's been skydiving since 1989, amassing 22,000 dives over that time.
"I've done lots of jumping all over the place. I think the thing that is most known about me happened in 2017 when I jumped out of a plane without a parachute and landed in a giant net," he said. "I did that on live TV and that was from 25,000 feet."
Coleman quickly responded, "When he says it was a giant net, it was not a giant net. It was a small net."
Aikens then said it was a 100- by 100-foot net "and I landed in that, without a parachute."
He won't be attempting that stunt this weekend, but he said he has something really special in store.
"Here in Batavia, I'm going to jump into a big American flag to start the show and Kevin's going to circle around me with smoke while the national anthem goes on," he said. "After that, Kevin's going to put on an awesome display with the extra flip-and-twist-into-it turns and blow your mind."
Later at night, Aikins said he's going to come out wearing a wingsuit with pyrotechnics (sparklers) on his feet.
"I'm going to come out with a wingsuit with a sparklers on my feet and I'm going to jump out from about 7,000 feet and fly my wingsuit at night … and open a parachute and land in that."