May 31, 2014 - 7:51am
ND conquers Arkport, wins Class DD Title
posted by
Nick Sabato
in
sports
.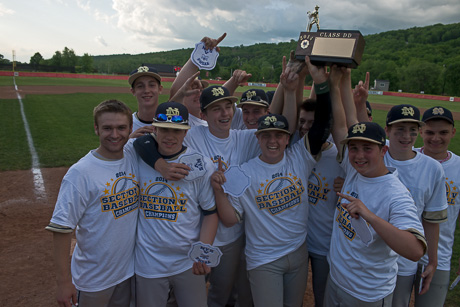 It has been quite a week for Notre Dame senior Alec Covel.
On Thursday he signed to play for Division II Mansfield University, and the very next day, he pitched the Fighting Irish past Arkport 11-5 to win the Class DD Section V Championship.
"It's a good way to go out," Covel said. "There isn't really much left to do, but hopefully we can finish the season off and keep it going as long as we can."
Oh, and by the way, he will receive his diploma on Saturday evening.
Things got off to a rocky start for Covel and the Irish, as Arkport took a quick 2-0 lead after the first inning after Brandon Stephens drove in the first run on an RBI triple, and then scored on a passed ball.
The Blue Jays would let Notre Dame back into the game, as they tied the game at 2 on the heels of four Arkport errors.
"We got some gifts early and then later I thought we earned them," said Notre Dame Head Coach Mike Rapone. "Early in the game they certainly gave us some and we gave them some. We didn't play well defensively and I think it affected Alec a little bit because he never really got into a rhythm."
In the second Notre Dame would start to get things going at the plate.
Jarrod Wall scored the tying run after getting on base on an error and then advancing to third on two passed balls before third baseman Jordan Wood committed his second error of the game (scoring the first two runs of the game) on a grounder by Tyler Prospero.
The Irish took the lead after pitcher Nate Warzcok walked Tyler Stroud with the bases loaded.
On the very next at bat, Andrew Mullen would drive in his second and third runs of the game on a 2-out 2-run double.
The defending Class DD champs would continue to battle, not allowing Covel to get into a groove on the mound.
Arkport scored two more runs to cut the lead to 5-4 in the third after Josh McDaniel knocked in a run on an RBI single and Wood scored on an errant throw by Mullen.
"They kept me off balance," Covel said. "They kept taking their time, untying their shoes and all that. They were in my head a little bit. I was frustrated for awhile but then I found it and finished off well."
The senior hurler would finish off well, allowing just one run in the final four innings.
The Irish would shake off the surge by the Blue Jays as they broke the game open in the bottom of the fourth.
Jason Hart got things rolling with a one-out walk, followed by a walk by Covel and a single by Tyler Stroud to load the bases.
Mullen would strike again, driving in another run on a single before Cal Tygart drove in two on a double.
If you recall, it was Hart who hit five three-pointers in the Section V championship game not three months ago. Well, in the Section V baseball title game, he reached base safely in all four plate appearances and scored three times.
"Jason just gets on base," Rapone said. "He walks, he gets on with an error, a flare…he just seems to have that knack of being able to get on base. With Covel hitting behind him, he's scored a lot of runs this year."
Notre Dame got two more runs after the shortstop bobbled a Louis Reynolds ground ball that plated Tygart and Mullen.
It looked as if the five-time Section V champions were going to make a run, down 10 to 4 in the fifth.
Covel looked as if he was struggling, allowing three hits to load the bases after errors in the infield.
After Stephens struck out, Craig Lewis drove in a run on a sacrifice fly and Warzcok singled to reload the bases.
But, Rapone stuck with his senior ace and, as great players do, he dug himself out of the hole.
On a 3-2 pitch with two outs Covel faked a pitch and caught McDaniels stealing to end the inning.
"Alec is a seasoned pitcher," Rapone said. "He's not going to get rattled because of what's going on. He made a heads-up play with a 3-2 count, knowing the runners were going to running. He did the fake with a swing-around pick-off. He's just a smart baseball player."
Covel would finish off the final two innings 1-2-3 to end the contest and finally get the Irish over the hump after losing to the Blue Jays in the finals in 2001, 2005 and 2012, while being eliminated in the semifinals in 2009.
"We've been the bridesmaids a lot of the time," Rapone said. "Arkport has been on the other side a lot of the time, too. It was nice to come out on top, especially for our seniors."
Stroud was named the Class DD tournament Most Valuable Player after going 5-for-7 with four RBIs in three games, while also striking out 13 batters and allowing just one run on three hits in the semifinals against Jasper-Troupsburg.
"From Little League it's something you dream of," Stroud said. "Now it's finally here."
Covel finished the game allowing five runs on nine hits and striking out eight batters to pick up the win.
Mullen went 3-for-3 at the plate with four RBIs, while Louis Reynolds had two RBIs and reached base three times.
Warzcok allowed eight runs on six hits and walked seven batters in four and one-third innings pitched for Arkport (14-5).
Notre Dame (15-3) will play Class D winner Whitesville on Tuesday at a site to be determined for the opportunity to play in the Far West Regional.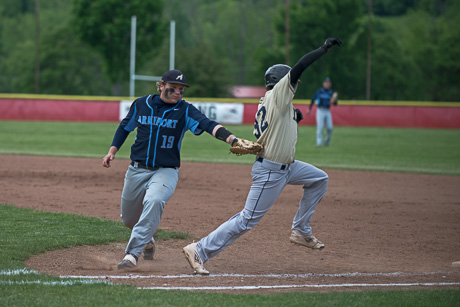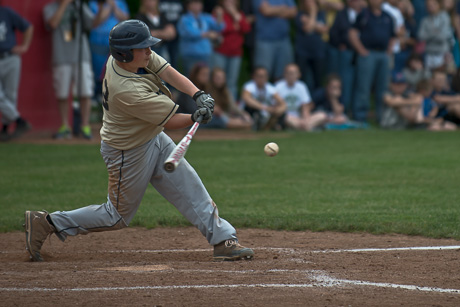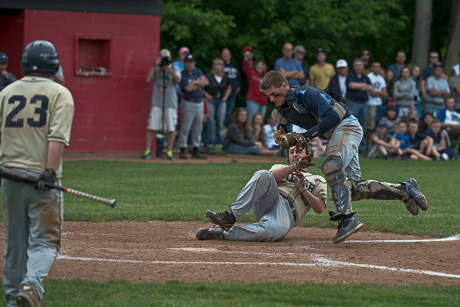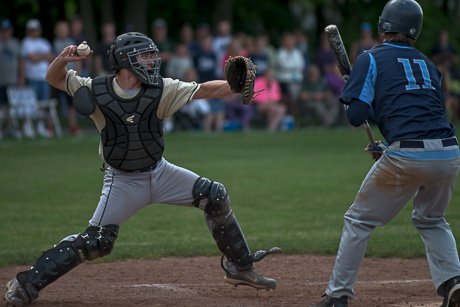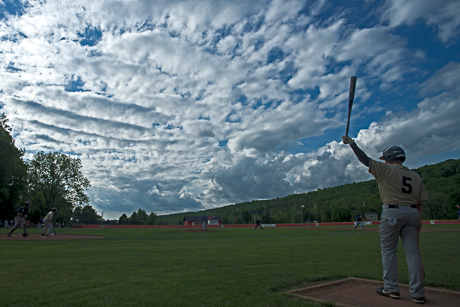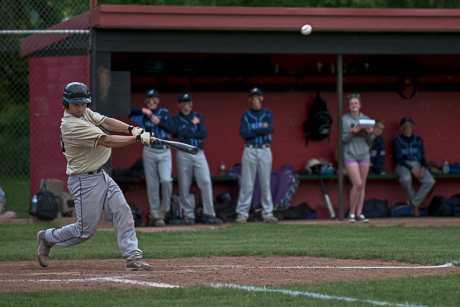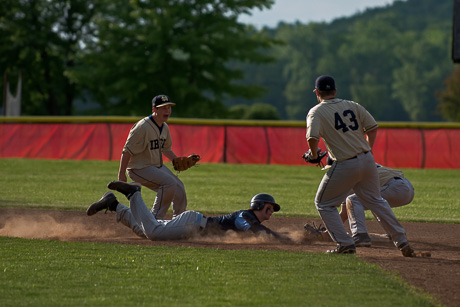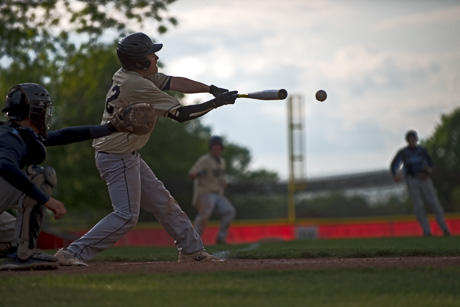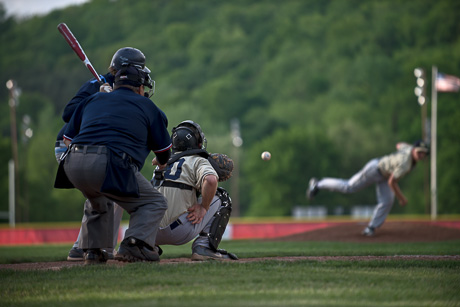 To purchase prints, click here.
May 31, 2014 - 10:42am
#1
Nice Job Guys
I love the fact that the black out eye makeup fad has diminished at ND compared to other teams with the exception of the one or two that did have it, which is normal.
Play speaks for its self . I never did understand the concept of having it down your cheeks besides looking like a cheap Canadian ballet dancer caught in the rain .
I love that fifth picture down that shows the sky full of clouds.