January 9, 2013 - 12:52pm
Notre Dame, Batavia to play in Rotary Tournament Finals
posted by
Nick Sabato
in
sports
.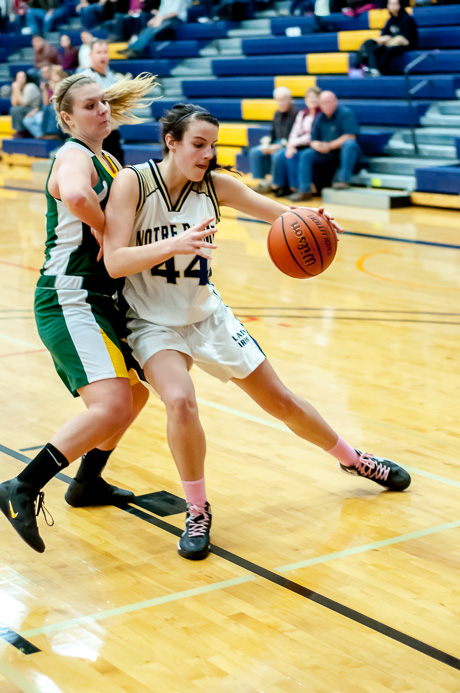 Notre Dame used a 13-2 second-quarter run to edge past Alexander in the first round of the Batavia Rotary Tournament at Genesee Community College, 57-43.
Neither team appeared to have an edge early on, with the score being tied after the first quarter. The Fighting Irish started the second quarter with a bang, outscoring the Trojans 18-6 in the frame. The run was keyed by three point field goals made by Shea Norton and Emma Francis, and the Irish ratcheted up their defense.
"After the first we tried to change up defenses," said Notre Dame Head Coach Dave Pero. "We went back to basics and got us back to where we could get into the lead.
Notre Dame's defense suffocated Alexander all night, coming away with 13 steals and holding leading scorer Sarah Loranty to six points on 2-of-12 shooting for the game. The Trojans also failed to connect from beyond the arc, missing on all seven attempts.
The Irish offensive attack was balanced all night long, getting 11 points apiece from Melanie Taylor and Shea Norton, while Riley Norton chipped in with 10. Pero's squad also got seven points each from Francis, Laurie Call and Maddie Mancuso.
"You can't score if you don't shoot," Pero said. "We always tell our players to shoot the ball if you're open."
Taylor continued her solid start to the season with another superb all-around game, collecting seven rebounds and six assists to go with her 11 points. Shea Norton added 12 rebounds to go along with her 11 points and Mancuso chipped in with six rebounds off the bench for the Irish (8-1).
Despite being held in-check for most of the night on the offensive end, Loranty did dominate the boards, bringing down 17 rebounds in the loss. Maria Dominick scored a game-high 13 points and grabbed five rebounds for Alexander (7-2), which lost two straight after winning their first seven.
Notre Dame will go on to face Batavia in the finals on Thursday night after the Blue Devils overcame a 30-19 halftime deficit to defeat Perry, 57-48.
The Blue Devils managed to cut the lead to five heading in to the fourth quarter and were able to outlast the Yellowjackets and hand them their first loss of the season.
Batavia got gigantic performances from two freshmen, Madison McCulley, who scored a game-high 15 points and dished out 10 assists while Tiara Filbert chipped in 14 points and grabbed 14 rebounds for the Blue Devils (8-3), who has defeated Perry in the Rotary Tournament for the second straight season. The Yellowjackets fell 44-41 in the finals a year ago.
Perry (7-1) got 13 points from Ashley Miller and will play Alexander in the consolation game at 6 p.m. on Thursday night at GCC. The finals between Batavia and Notre Dame are scheduled to tip-off at 7:30.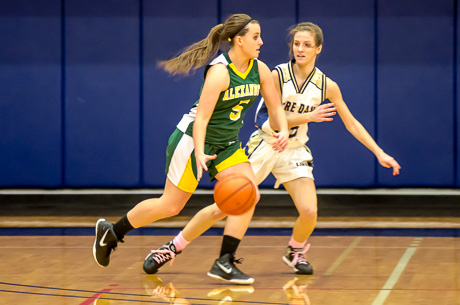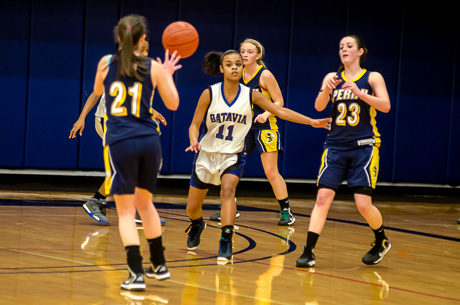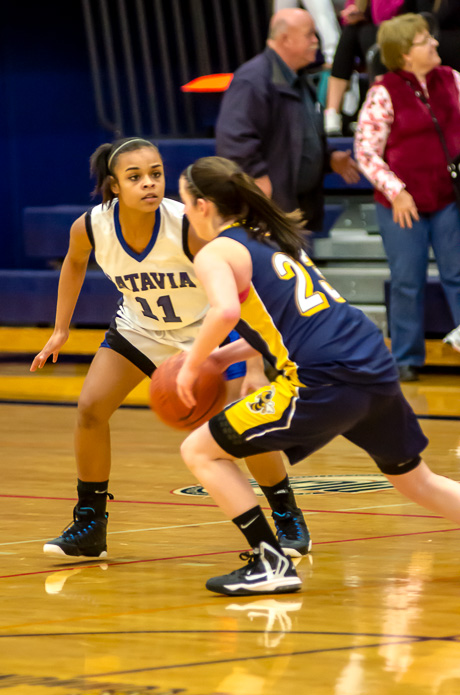 To purchase photos, click on the link in the slide show that says "purchase photos."
All photos by Howard Owens.
January 9, 2013 - 1:10pm
#1
January 9, 2013 - 1:24pm
#2
Nick Sabato's story is excellent, too.