March 8, 2014 - 11:55pm
Slow start ends state dreams for Notre Dame boys
posted by
Nick Sabato
in
sports
.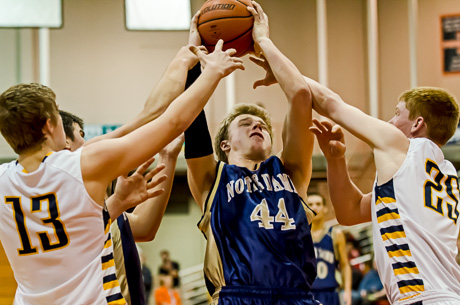 Have you ever heard the phrase "It's not how start, it's how you finish"?
Well, today that didn't turn out to be true, as Sherman used a monster first half to end Notre Dame's spectacular postseason run, 57-52.
The game began with both teams struggling to find their rhythm on offense, but Sherman found their touch midway through the first quarter, using a 13-0 run to end the period.
In the second quarter the Wildcats picked exactly where they left off, outscoring the Fighting Irish 24-15, shooting 10-of-20 from the three-point line in the first half to take a 40-20 lead into the locker room.
While Sherman couldn't miss, Notre Dame struggled to make baskets, as they shot just 26 percent from the field during the first 16 minutes, while Tim McCulley went 0-for-7 in the first half for just two points.
"They shot the ball extremely well," Notre Dame Head Coach Mike Rapone said of Sherman. "I don't think we defended like we have been. We gave them a lot of open looks but they knocked them down. You have to give them credit; they shot the ball extremely well. We tried every defense and it just didn't work."
The Fighting Irish also struggled to handle the Sherman press, as they committed 12 turnovers in the first half.
The lone bright spot in the first half was junior Josh Johnson, who scored all 13 points in the first half, including eight in a row during the second quarter.
"Josh had a really good game," Rapone said. "He played really well tonight. We needed more offense in some of the spots than what we got and that was the difference."
Notre Dame came out strong to start the second quarter, getting two quick baskets and a steal, but they failed to get that third shot in a row to fall, and the Wildcats quickly pushed their lead.
That would be a theme throughout the second half, as the Irish cut the Sherman lead to 10 early in the fourth quarter, but two quick baskets pushed the lead back to 15.
"That was the story of the whole game," Rapone said. "We weren't as mentally focused as we have been. We were supposed to be doing certain things that we didn't do. I'll take that load. I'm the coach, I'm supposed to make sure that they are in the right sets. We didn't do what we talked about doing and that's why we got beat."
While the team struggled to remain consistent, McCulley struggled to find his offensive touch in the third quarter. He made his first basket of the contest with just two minutes left in the third quarter.
"Their wings were up on my side," McCulley said. "So I wasn't able to get a shot from the 3-point line or off drive and kicks. It was just tough to score."
After a torrid first half, Sherman cooled off from the field in the second half, shooting just 5-for-24 from the field and 3-for-12 beyond the arc.
Andrew Graham, who entered as the Wildcats' leading scorer, went just 1-for-7 in the second half after scoring 12 of his 14 points in the first half on 4-of-7 shooting beyond the arc.
Unfortunately for Notre Dame, they shot just 32 percent from the field in the second half, and the one statistic they own in the first half was matched by the opposing team in the second.
Sherman was out-rebounded 44-27 for the game, but they managed to grab six offensive rebounds in the second half that doomed the comeback dreams by the Irish.
"Rebounding in the third quarter killed us," Rapone said. "At least four times they missed the first shot and got the ball back. Even if they didn't score, they would run 20 to 25 seconds off the shot clock. So, second half rebounding, and especially in the third quarter really hurt us."
The loss came as a surprise to many people after winning 10 games in a row and 15 out of the last 16.
McCulley entered the game with a 12-game streak in which he had notched at least 20 points, while Alec Covel had reached double figures in six straight games.
The two seniors combined to shoot 5-of-23 for the game and turned the ball over 10 times.
"It's a little easier to accept to go out and play a strong game and get beat somebody else that plays a strong game," Rapone said. "They played a strong game and we didn't answer it. When that happens, you have to give credit to the opponent. Whatever they did worked well for them so we have to give them credit."
Notre Dame clawed their way back late in the game, cutting the lead to just five but they simply ran out of time and ran out of magic.
McCulley finished his last high school basketball game with a team-high 15 points, 11 rebounds, two steals and two blocks. He ends his career with 1,210 points on 452 made field goals and 424 rebounds.
"It was a hard game to get to the hoop," McCulley said. "They played good defense and we didn't get a lot of good looks."
Johnson finished with 13 points, six rebounds and three steals while Caleb Nellis scored 10 points and pulled down seven rebounds.
Sherman (21-1) will advance to the state semifinals in Glens Falls next weekend after getting a game-high 22 points on 5-of-9 shooting beyond the arc from Ryan Robson. As a team, the Wildcats connected on 13 three-point field goals.
Meanwhile, Notre Dame (19-4) hadn't allowed more than 50 points since Feb. 12, and it was only the fourth time all season that they had scored less than 55 points in a game.
This was the first loss in a Far West Regional under Mike Rapone, as they had won their first five.
Photos by Howard Owens.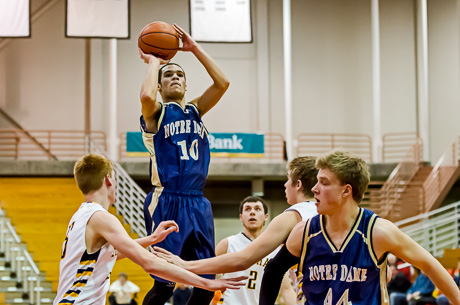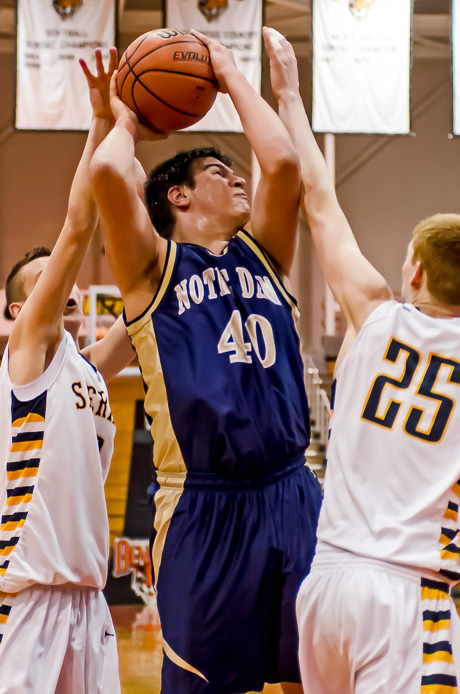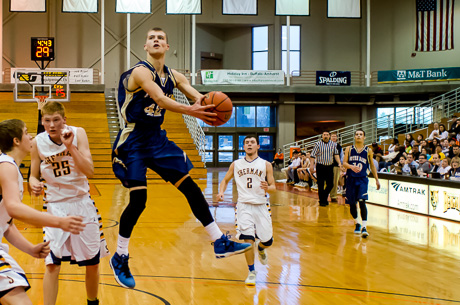 To order prints of photos, click here.