January 26, 2016 - 7:24pm
Willard J. Bell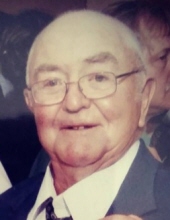 Willard J. Bell, age 87, of Perry, died on Monday January 25, 2016 at Strong Memorial Hospital in Rochester.  Willard was born in Buffalo, New York on August 30, 1928 a son of the late William and Lillias (DeGlopper) Bell.  Along with his parents he is preceded in death by his first wife Juanita (Ball) Bell who passed away on May 8, 1977, his second wife: Carol (Slocum) Bell who passed away on May 29, 2012 and a son: Richard "Rick" Bell who passed away on July 10, 2015.

Willard was a truck driver and farmer who owned and operated Bell Farms in Perry with his brothers and late father. He enjoyed working on the farm, hunting and fishing.
He is survived by a daughter: Diane (Michael) Dee of Colorado Springs, CO., 2 sons: David (Dianne) Bell of Beaver Dam, WI. and Gerald (Marcia) Bell of Perry, 2 brothers: Robert (Darleen) Bell and Roy Bell both of Perry, 6 grandchildren: Jeff (Amie) Bell of Perry, Gary (Kerry Aaron) Bell of Caledonia, Sandra (John) Ager of Sun Prairie, WI., Teresa Bell of Monona, WI., Mallory (Tom) Lauffer of Caledonia and Jacob (Courtney Kingston) Bell of Leicester, 3 great grandchildren: Lily Bell, Clara Belle Ager and Colton Lauffer along with many nieces and nephews.
Family and friends may call from 10:00am-1:00pm on Friday January 29th, 2016 at the Eaton-Watson Funeral Home, LLC. 98 North Main St. in Perry, where Funeral Services will follow at 1:00pm at the Funeral Home.  He will be laid to rest in the Prospect Hill Cemetery in Perry Center.
Memorials may be made to the Perry Center Fire Department P.O. Box 204 Perry, New York 14530 or to the American Cancer P.O. Box 22478 Oklahoma City, OK 73123 or visit www.cancer.org.  For more information please call (585) 237-2626 or to leave a message of condolence please visit www.eatonwatsonfuneralhome.com. Arrangements completed by Eaton-Watson Funeral Home, LLC. 98 North Main Street Perry, New York 14530.