February 4, 2016 - 4:12pm
ROCCO T. "ROCK" TENEBRUSO
posted by
Michael Tomaszewski
.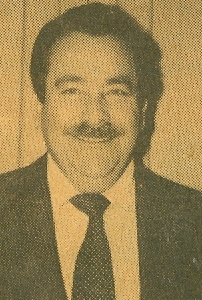 Rocco T. "Rock" Tenebruso
Rocco T. "Rock" Tenebruso of Batavia, died on "his own terms" with the assistance of the Lord, Tuesday evening February 2, 2016 at United Memorial Medical Center in Batavia.
He was born February 13, 1934 in Batavia, NY. Son of the late Anthony (Maria Micheale Garofalo) Tenebruso, he was also predeceased by his sisters Dorothy (Sam) Zanghi, Rose Marie (Anthony) Battaglia and Angeline (Donald) Berardini as well as his niece Julie Grazioplene-Hahn. He was an ever- loving and eternally grateful brother to Anthony (Marcia) Tenebruso, Anna (Jack) Hamner, and Mickey (Roger) Grazioplene.  He was also a devoted and loving husband to the late Maureen (Kelley) Tenebruso.
Rocco was an Army Veteran and a retired supervisor at the ARC in Batavia as well as a lifelong member of St. Anthony's Church and Ascension Parish. He enjoyed going to the casino and playing the horses as the unofficially declared "Mayor" of Batavia Downs. He particularly enjoyed the company of family and friends every Monday afternoon carrying on the tradition of the famous Monday "Coffee Clutch" started by his mother over 35 years ago. He had a wonderful compassion and love for his friends and family by always putting their needs before him whenever he was capable. Rocco's happiness was most apparent when he was not only surrounded by his family but whenever his two boys came in from out of town to visit him.
Surviving are his two sons, Robert (Michelle) Tenebruso of Hamburg, NY and Joseph (Alesa) Tenebruso of Amherst, NY.  Rock was a very proud and eternally loving grandfather to his seven grandchildren, Steven, Alexandrea, Joseph, Stephanie, Lindsay, Adam, and Austin; he was also a wonderful great-grandfather to seven great-grandchildren, Tatum, Elijah, Caleb, Joey III, Elsie, Noah, and Ronan; he was also a constantly devoted friend to Stella Howe as well as a FAVORITE Uncle to his many nieces, nephews, cousins and friends.
Friends, family, and all loved ones may visit from 4 - 8pm on Saturday February 6th and Sunday February 7th from 2 - 6pm at the MICHAEL S. TOMASZEWSKI FUNERAL & CREMATION CHAPEL, LLC 4120 WEST MAIN STREET ROAD BATAVIA, where prayers will be recited at 9:30AM Monday February 8th followed by a mass of Christian Burial 10:00am at Ascension Parish, (corner of Swan & Sumner Sts.).  Military honors will follow his funeral mass and burial will be in St. Joseph's Cemetery in Batavia, memorials in his memory can be made to the family for distribution to the charities of their choice. 
Rock's two sons and extended family, wish to also thank all nurses and doctors at the VAMC and the UMMC in Batavia, NY for all the love, care, and support he received "during his time of struggle."
"God has called for me to come home because He is the BOSS!  So since it is now time for me to 'go bye-bye,' would someone please…CUT THE CAKE?"
THE FAMILY OF ROCCO T. TENEBRUSO IS BEING CARED FOR BY THE MICHAEL S. TOMASZEWSKI FUNERAL & CREMATION CHAPEL, LLC 4120 WEST MAIN STREET ROAD BATAVIA, NEW YORK 14020.