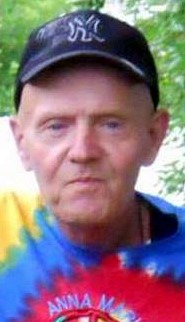 Ronald E. McIntyre, age 69, of Perry, died on Monday February 15, 2016 at the Wyoming County Community Hospital in Warsaw surrounded by his family. He was born in Rochester, New York on June 17, 1946 a son of the late Louis and Thelma (Warner) McIntyre.  Along with his parents he is preceded in death by many siblings.
Ron retired from the Rochester Insulator's Union Local #26 in Rochester. He enjoyed collecting model trains, spending time at Letchworth State Park, going to the Casino, traveling, camping, fishing, gardening and spending time with his dogs and family.
He is survived by his wife whom he married on June 15, 1965 Ruth Ann (Clovis) McIntyre of Holley, sons: Scott (Colleen) McIntyre of Myrtle Beach, SC., Patrick (Denise) McIntyre of Perry and Ronald McIntyre of Perry Center, sister: Irene (Roger) Case of Rochester, brother: William McIntyre of Warsaw, 4 grandchildren: Marshall (Rachael) Bennett, Jordan (Matt) Morzak, Brooke McIntyre and Justin McIntyre, 2 great granddaughters: Lyla and Gianna Bennett along with many nieces, nephews and good friends.
Family and friends may call from 2-4 and 7-9 pm on Saturday February 20, 2016 at the Eaton-Watson Funeral Home, LLC. 98 North Main St. in Perry. Funeral Services will be held on Sunday February 21st at 3:00pm at the Funeral home.  He will be laid to rest in Maple Grove Cemetery in Churchville.
Memorials may be made to the American Cancer Society P.O. Box 22478 Oklahoma City, OK 73123 or visit www.cancer.org.  For more information please call (585) 237-2626 or to leave a message of condolence visit www.eatonwatsonfuneralhome.com. Arrangements completed by Eaton-Watson Funeral Home, LLC. 98 North Main Street Perry, New York 14530.