March 7, 2016 - 12:58pm
Victoria I. Krolikowski
posted by
Ronald Konieczny
.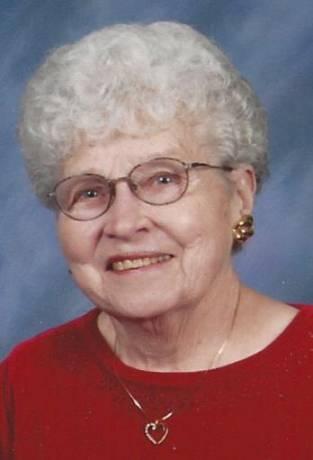 Victoria I Krolikowski, 91 of Batavia, passed away peacefully on Saturday March 5, 2016 at United Memorial Medical Center.
She was born October 18, 1924 in Medina, NY, a daughter of the late Joseph and Julia Nowicki Stach.
Vicky was employed by the former Holiday Inn as head banquet waitress prior to her retirement in 1990. She was a very active member of Ascension Parish,(Sacred Heart)  and its  Altar & Rosary Society, along with the church choir.  A wonderful wife, mother and grandmother, her family and strong Catholic faith were the center of her life. She will always be remembered for her kindness and charity, her beautiful smile and sense of humor, and as an avid baker and cook. 
 She was the wife of the late Joseph S. Krolikowski, who passed away August 4, 2000; mother of the late Judy Williamson and was predeceased by  brothers Vincent, Henry, Walter and Chester and her sister Mary Vahoviak.
Survivors include her three daughters, Stella (Thomas)  Kwiatkowski of Albion, Brenda (Timothy) Tederous of Stow, OH and Paula (Timothy) Suttell of Batavia. Son, Michael (Cheryl) Krolikowski of Reynoldsburg, OH. Grandchildren, Joseph, Stephanie and Emily Kwiatkowski, Cory and Todd Tederous, Marissa and Erin Suttell, Tracy Suttle and Lori Krolikowski, Christine (James) Hood and Carrie (David) Knife.  Great Grandchildren, William, Alex, Colin, Dutton and Emerson. Brothers, Frank of Florida, Edward of Massachusetts and Stanley (Mary) of Medina.  Sister, Helen Scott of Florida. Sisters in-law, Barbara Stack and Lois Stack. Several nieces and nephews also survive.
Family and friends are cordially invited to share thoughts, condolences and fond memories on Thursday, March 10th from 4 to 8pm at the J. LEONARD MCANDREW FUNERAL HOME, LLC, 2 Bogue Ave., Batavia, NY. Her Mass of Christian Burial will be Friday, 11:00am at Ascension Parish (Corner of Swan St. and Sumner St). Interment will be in St. Joseph Cemetery.
The Ascension Parish Rosary Society will recite the rosary Thursday, 3:30pm at the funeral home.
For those desiring, memorials  may be made in the form of Mass cards  or contributions to Genesee County Senior Foundation, 2 Bank St Batavia, NY 14020 or Father Baker's Victory Services, 780 Ridge Rd, Lackawanna, NY 14218. Expressions of condolence may be shared with the family at: www.mcandrewfuneralhomes.net.
ARRANGEMENTS WERE ENTRUSTED TO THE J. LEONARD MCANDREW FUNERAL HOME, LLC, 2 BOGUE AVE., BATAVIA, NY 14020, RONALD KONIECZNY II, DIRECTOR.