March 8, 2016 - 1:59pm
Mary Marjorie Amthor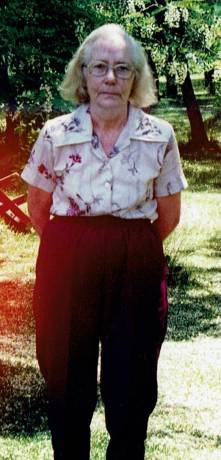 Wyoming - Mary Marjorie Amthor, 83, of Wyoming, died Monday (March 7, 2016) at the Wyoming County Community Health System Nursing Facility in Warsaw.
Mary was born September 7, 1932 in Batavia, a daughter of the late Ralph and Marian (Whitcher) Dobson.
Mary loved to read and travel.  She will be remembered for having a sweet tooth, especially when it came to candy.  She was an athlete and a sports fan, especially of the Buffalo Bills.
Survivors include her children, Lonny (Gabriele) Amthor of Hamlin, Linda Amthor of Oakfield and Brian Amthor of Wyoming; one sister, Donna Colby of Batavia, seven grandchildren, eleven great-grandchildren and several nieces and nephews.
Mary is the wife of the late Clinton H. Amthor and sister of the late Raymond Dobson and Arlene Dobson.
Calling hours are Thursday from 10:00 a.m. to 12:00 p.m. at the Bohm-Calarco-Smith Funeral Home, 308 East Main Street, Batavia.  Services will be at 12:00 p.m. on Thursday also at the funeral home.  Burial will be in West Bethany Cemetery. 
Memorials may be made to Volunteers For Animals, P.O. Box 1621, Batavia, NY 14021.
Please leave a condolence, share a story or light a candle at www.bataviafuneralhomes.com.