Image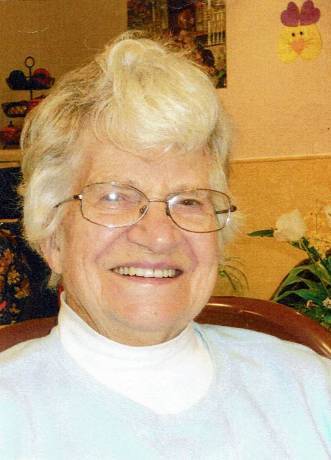 Batavia – Jane Brotherton Bartz, 87, of Batavia, went to be with her Heavenly Father on Wednesday (April 6, 2016) in Batavia, NY.
Born in Warsaw, NY, a daughter of the late James and Nellie Jane (Chamberlain) Brotherton, she and her siblings grew up on their parents' dairy farm in Warsaw. On August 21, 1948, she married Henry L. Bartz at the First Baptist Church in Batavia, NY.  They lived in the house he built on Bank Street in Batavia until their growing family moved to a small farm in the Town of Bethany. 
Jane worked at P.W. Minor Shoe Factory, retiring in 1991.  At one time she was active in the Batavia Women's Bowling League, and in the 1960's and '70's she and Henry enjoyed square dancing with the Batavia Twirlers Square Dance Club.  They loved camping (especially in the Adirondacks) with their family and in 1983, Henry and Jane traveled to Israel for 3 weeks.  In 1991, with their new 5th wheel camper, they traveled across the United States and then in 2001 camped across most of the country.
Jane was such a loving and kind, patient and considerate person who was full of compassion.  She was always willing to help, always putting others before herself.  She will be so sadly missed by her family.  Survivors include her husband of 67 years, Henry L. Bartz of Batavia; her children, Steven M. (Penny) Bartz of Stafford, Duane M. Bartz of Henrietta, Sharon M. (Rod) Douglass of Castorland, NY, Timothy M. (Teresa) Bartz of Corfu, Shawn M. James of Batavia, and Julie M. Bartz of Prescott, AZ; nine grandchildren; fifteen great-grandchildren; and many nieces and nephews.
Jane was predeceased by a daughter, Vicki Lynn Bartz, a daughter-in-law, Karen Bartz, brothers, Sidney Brotherton and Robert Brotherton and sisters, Ruth Brotherton, Elgie Frain, Katie Burdick, Doris Miller, Norma Bauer Turybury, and Eleanor Post. 
Calling hours are Monday, April 11th from 10:00 a.m. to 12:00 p.m. at the Assembly of God Church, 24 North Spruce Street, Batavia, with Funeral Services immediately following.  Burial will be in Grandview Cemetery, Batavia.  Memorials may be made to the Assembly of God Church, 24 North Spruce Street, Batavia, NY 14020.
Please leave a condolence, share a story, or light a candle at www.bataviafuneralhomes.com. Arrangements were completed by the H.E. Turner & Co. Funeral Home of Batavia.