April 11, 2016 - 8:17pm
LAWRENCE M. "LARRY" BARONE
posted by
Michael Tomaszewski
.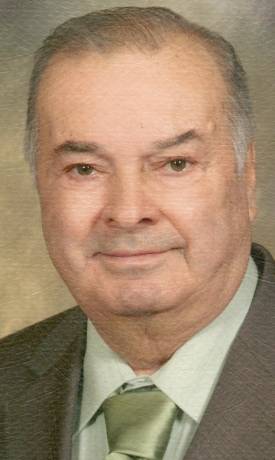 LAWRENCE M. "LARRY" BARONE
Age 90, of Batavia, died Sunday morning April 10, 2016 at Unity Hospital in Rochester. He was born November 16, 1925 in Batavia. He was the last of 11 children of the late Louis and Sara (Coticchio) Barone, also preceded in death by his siblings, Frank, Tony, Dominic, Phillip, James, Peter, Joe, Louis, Florence and Margaret Barone. 
Mr. Barone served our country honorably as a member of the U.S. Army during World War II. A devote catholic he was a lifelong member and usher of Ascension Parish (former St. Anthony's), where his parents were 1 of the 10 founding families of the parish. He was a member of the first graduating class of the former St. Anthony's School. Larry worked for 33 years at Dohler-Jarvis and in security at Batavia Downs, he was an avid bowler, New York Yankees fan and enjoyed the horses at OTB. He had a love for dancing, singing and was even known to do some karaoke, but his greatest joy was his wife, children, and grandchildren. 
Surviving is his wife of 62 years, Angeline (Calandra) Barone of Batavia; children, Frank (Teri) of Corfu and his children, Christopher and Jennie Barone; Suzan (Vincent) Pellegrino of Stafford and their children, Vincent Pellegrino, Nicholas (Erin) Pellegrino, Angelina (Matthew) Pellegrino-Wolff, Karen (Joshua Secondo) Pellegrino; Tina (Mark) Adams of Batavia and their children, Benjamin and Gloria Adams; great-grandchildren, Mira, Antonio, Dominic, Mikalina, Carmelena and Lorenzo; sisters-in-law, Josephine and Mary Barone both of Batavia, Mary Mogavero of Derby and Pat Calandra of Orchard Park along with many nieces, nephews, great nieces/nephews and great-great nieces/nephews. 
The family will be present on Wednesday April 13, 2016 from 4 - 8PM at the Michael S. Tomaszewski Funeral & Cremation Chapel, LLC 4120 West Main Street Road Batavia, New York 14020 where prayers will be recited at 9:30AM Thursday April 14 followed by a mass of Christian Burial 10:00AM at Ascension Parish (Sacred Heart Site). Entombment will be in the Father T. Bernard Kelly Mausoleum at St. Joseph's Cemetery along with Military Honors and memorials in his memory are suggested to a charity of the donor's choice. 
Please share your thoughts and memories of Larry with his family at www.tomaszewskifh.com 
THE FAMILY OF LARRY BARONE IS BEING CARED FOR BY THE MICHAEL S. TOMASZEWSKI FUNERAL & CREMATION CHAPEL, LLC 4120 WEST MAIN STREET ROAD BATAVIA, NEW YORK 14020.