April 20, 2016 - 3:16pm
F. RICHARD GRIMES
Batavia - Mr. F. Richard Grimes, 89 of Batavia passed away on April 19, 2016 at his home surrounded by his loving family.
Mr. Grimes was born October 11, 1926 in Batavia, the only child of the late Francis A. and Dorothy (Merrill) Grimes.
Dick is survived by his lovi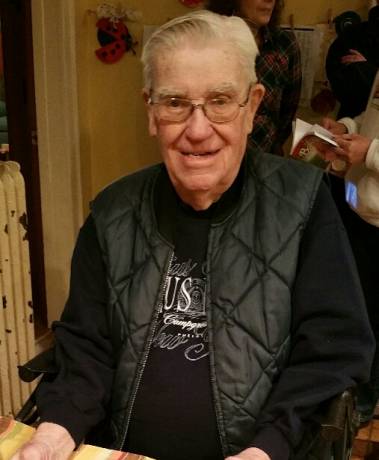 ng wife, Mary Lou (Reigle) whom he married on May 12, 1956.
Mr. Grimes retired in 1992 after 44 years employed by the Genesee County Highway Department.  It was not far off the 47 1/2 years that his father, the late Francis A. Grimes logged with the city of Batavia Fire Department.
A longtime member of St. Joseph's Church, he was a member of the former Elks Club, Loyal Order of the Moose and St. Nicholas Club.  Dick was a member of Mighty St. Joe's Drum Corp since 1939.  He started playing horn and moved onto the baritone.  He also played with the Legion Corp and Brockport Grenadiers.
Dick served in the Philippine Campaign during World War II with the United States Army.  He was a member of the Veness-Strollo Post No. 1602 Veterans of Foreign War.
Dick had a deep love and passion for Fire Trucks.  Dick amassed a substantial collection of them over the years and took great pride in them.  He always had a story to tell and loved telling them to anyone who would listen.  Dick was a longtime patron of the Pok-A-Dot restaurant visiting on a regular basis.
Other survivors include:  Son, Gregory (Lois) Grimes of Oakfield: Daughters Colleen (Dave) Ronan of St. Cloud, Florida, Kathie (Chris Roberts) Grimes-Goras of Batavia. His grandchildren: Matthew (Molly) of Alexander, LS2(SW) Timothy S. Grimes, MCAS Cherry Point, NC; David (April) Ronan of St. Cloud, Florida, Daniel Ronan of Orlando, Florida, Megan and Nathan Goras of Batavia. His great grandchildren: Mae, Myles, and Maura and another Grimes baby due in early May 2016. Gunner and Gemma Ronan of St.Cloud, Florida.  Several Cousins, Nieces and nephews also survive.
Dick cherished all of his grandchildren, but he had a special bond with his only Granddaughter Megan. He loved visiting Disney World in Florida to see his favorite princess Snow White.
Friends may call on Thursday from 4 to 8 p.m at the Bohm-Calarco-Smith Funeral Home, 308 East Main Street, Batavia. His Mass of Christian Burial will be held on Friday at 9:30 a.m. at St. Joseph's Church, 303 East Main Street, Batavia. Burial, with full military honors, will be held at St. Joseph's Cemetery, Batavia. In lieu of flowers, please consider memorials in Dick's name to St. Joseph's School, 2 Summit Street, Batavia, New York 14020 or to HomeCare & Hospice, 29 Liberty Street, Suite #6, Batavia, New York 14020.