Image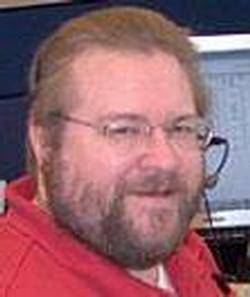 Seth A. Fenton, 52 of Olivet, Michigan and formerly of Akron, NY, passed away unexpectedly, April 29, 2016, at Millard Fillmore Suburban Hospital in Amherst, NY. 
He was born August 17, 1963 in Batavia, NY, the son of the late Wm. Stanley and Dorothy Fenton. 
Seth was a 1985 graduate of Ithaca College earning a Bachelor of Science Degree in Communications. His passion for all things sports was evident from an early age.  While in high school he did play by play for the Akron Tigers. Seth's vocal style matured during his college years working at the college radio station WICB announcing for the Ithaca Bombers.  Seth was an on air personality for multiple radio stations in NY state. While at WCJW ,Warsaw, NY, he won The 1996 NYS Broadcasters Excellence In Broadcasting Award for high school football play by play. 
A fine musician and man of faith, Seth served at St. Michael's Lutheran Church during the 1990's as the adult choir conductor and vacation bible school music director. Moving to Michigan in 1999 he switched career paths using his second love numbers and stats working for Jackson National Life call center as a Senior Business Analyst  from 1999-12. He was currently employed by  Meritain Health in Okemos, Mi. as a Workforce Managenent Analyst. Seth's love for broadcasting never left him. Seth taught as an adjunct professor two terms at Olivet College and served as the advisor to the student run radio station. As recently as October Seth had the opportunity to do voice over with Lissa Marsolex  for a Christian Brothers Racing merchandise commercial. 
In 2000 Seth and Janora were married in Las Vegas. This was the first of many travel adventures. Together they experienced the views of the Grand Canyon, seeing the redwoods in Yosemite, the Albuquerque balloon fiesta and many family vacations with Alexis, their God-daughter.  Seth enjoyed playing on golf leagues with friends both during his time in NY and in Michigan. A wealth of " useless information" he played on different teams in his local area on dj trivia nights. 
He will be missed by his wife, Janora Stevens-Fenton of Olivet, MI. Sister, Thea Fenton Wheeler of Akron, NY. Mother-in-law, Lorainne Stevens of Olivet, MI. God Daughter, Alexis Lynne  Cornwell. Cousins, Joan and Warren Clark of Corfu, NY. Many friends and extended family through the states.
There will be no prior visitation. Private services will be at the convenience of the family. 
Memorial contributions in his memory may be made to the WICB-FM Ithaca College Advancement Services Gift Processing, 953 Danby Rd.., Ithaca 14850.  Espressions of condolence may be shared with the family at www.mcandrewfuneralhomes.net. 
ARRANGEMENTS WERE ENTRUSTED TO THE J. LEONARD MCANDREW FUNERAL HOME, LLC, 32 JOHN ST., AKRON, NY 14001. RONALD KONIECZNY II, DIRECTOR.