May 8, 2016 - 1:58pm
William J. Boland, Jr.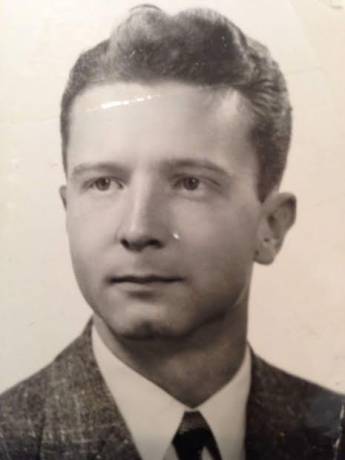 Oakfield - William J. Boland, Jr., 81, of Oakfield, a music teacher at Oakfield - Alabama School, for 33 years prior to his retirement in 1992, died Saturday, May 7, 2016 at United Memorial Medical Center, in Batavia.
Mr. Boland was born May 22, 1934 in Rochester, a son of the late William J. (Sr.) and Gladys (Monk) Boland.
He served in Korea with the US Army from 1957 through 1958.  He is described as a "Loving Family Man", and enjoyed playing golf and traveling. 
He was a lover of history and spoke on the Civil War on many occasions.  He participated in the Folk Mass at St. Mary's Church, judged at the All County Music Festival, was a NYSSMA Judge and member of the Genesee County Judging Association.  He received the "Band Director of the Year" award by the Rochester Philharmonic.
He is survived by his wife, Joanne (Meerholz) Boland, whom he married on January 19, 1957; 4 daughters, Susan Boland of LeRoy, Kathleen (Todd) Swigert of Victor, Donna Boland Christman of LeRoy, and Amy (Dean) Joslyn of Oakfield; 6 grandchildren, Ronald Christman, Jr., William J. Christman, Gerald Christman, Katrina (John) Joslyn Gerber , Kaley Swigert and Kyle Swigert; a sister-in-law, Margaret Boland of Rochester; a niece, Pat Banks of SC and a great-nephew, Steven Banks of SC;
He was the brother of the late Joseph William Boland and Arthur James Boland.  
Friends may call on Wednesday from 4 to 7 p.m. at Burdett & Sanford Funeral Home, 11 Maple Ave., Oakfield, where services will be at 11 am Thursday.  In lieu of flowers, memorials may be made to St. Jude Children's Research Hospital, P.O. Box 1000, Department 142, Memphis, TN 38101-9908.  Please leave a condolence, share a story or light a candle at www.burdettandsanford.com.