May 10, 2016 - 4:17pm
Mrs. Mary Frances Pietrzykowski
East Bethany - Mary Frances Pietrzykowski, 85, of East Bethany, passed away on Monday, May 9, 2016 at Wyoming County Community Hospital, in Warsaw.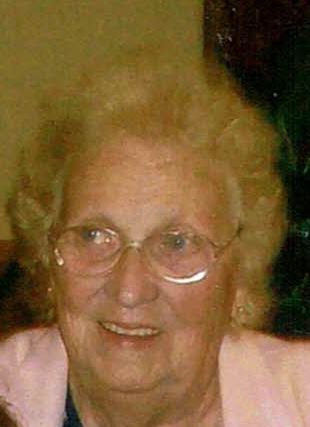 Mrs. Pietrzykowski was born January 19, 1931 in Batavia, a daughter of the late James and Mary Jane Sullivan Tibbs.
A member of Mary Immaculate Parish, she was a member of the altar and rosary society of the church. A member of the Lioness Club, the Falconettes, the Cookie Cutter Collectible Club, the Gadabouts and she was one of the original members of the Bethany Volunteer Fire Department Auxiliary. She volunteered many hours at the Richmond Memorial Library and was honored as the volunteer of the year.
Above all else, she loved being with her family and spending time with her grandchildren and great-grandchildren.
Her husband, Edward F.  Pietrzykowski, Sr., passed away on May 1, 1988.
She is survived by her children, Patrick (Barbara) Pietrzykowski of East Bethany,  Patricia (Stephen P. Milinovich) St. Louis of Gambrills, Maryland,  Margaret "Peg" (Robert) Gorecki of Batavia, Edward "Chico" (Mary) Pietrzykowski, Jr. of East Bethany, the late Daniel (Lori) Pietrzykowski of Churchville, Dennis Pietrzykowski of East Bethany and Francis "Bummer" (Gretchen) Pietrzykowski of East Bethany; ten grandchildren, six great-grandchildren, two sisters-in-law,  Elaine Tibbs of Batavia and  Millie Annis of West Virginia;  and several nieces, nephews and cousins.
She is the sister of the late Margaret, Joseph and James Tibbs, Katherine Davis and Mary Jane Annis.
Friends may call on Thursday from 2 to 4 and 7 to 9 p.m. at Bohm-Calarco-Smith Funeral Home, 308 East Main Street, Batavia. Her Mass of Christian Burial will be celebrated on Friday at 10 a.m. at Mary Immaculate Parish - Immaculate Conception Site, 5865 Ellicott Street Road, East Bethany.  She will be laid to rest in St. Joseph's Cemetery. Memorials may be made to Friends of Richmond Memorial Library, 19 Ross Street, Batavia, New York 14020 or to the Bethany Volunteer Fire Department, 5253 Old Telephone Road, East Bethany, New York 14054. To leave a condolence, share a story or light a candle, please visit www.bataviafuneralhomes.com.